Royal honour for 'world class' Institute of Aquaculture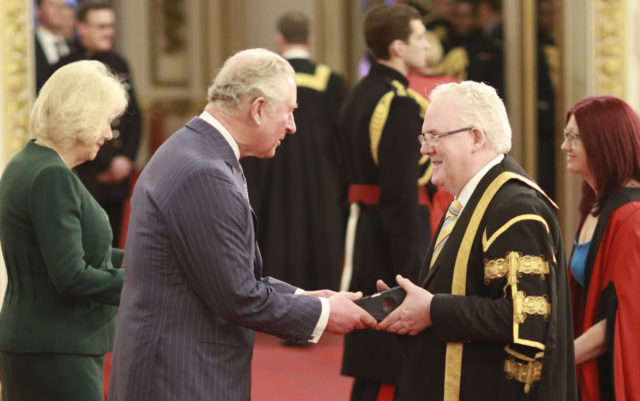 STIRLING'S Institute of Aquaculture (IoA) was presented with the UK's highest academic honour by the Duke and Duchess of Cornwall at a special ceremony at Buckingham Palace this morning.
The Queen's Anniversary Prize recognises outstanding work that shows quality and innovation, and delivers real benefit to the wider world through education and training.
Professor Selina Stead, head of the IoA, and Professor Gerry McCormac, principal and vice-chancellor of the university, collected the award.
The recognition celebrates the IoA and its pioneering work in the world's fastest growing food production sector in a bid to tackle global hunger.
It comes as the institute prepares to mark its 40th anniversary next year with a major redevelopment of its facilities, funded under the Stirling and Clackmannanshire City Region Deal.
Professor Stead said: 'We are absolutely delighted that the University of Stirling has received the Queen's Anniversary Prize, in recognition of the work of our Institute of Aquaculture.
'This reflects the collaborative and inter-disciplinary work our team has taken over the past 40 years – with governments, regulatory bodies, industry, fish farmers and supply chains – to tackle global problems of food security, hunger and sustainability.
'Over the coming years, with investment through the Stirling and Clackmannanshire City Region Deal, we will build upon these successes and further enhance our research and teaching offering to ensure that the Institute of Aquaculture remains a global leader in its field.'
McCormac added: 'Our experts are working to tackle global problems of food security, hunger and sustainability through aquaculture – and have a global reputation for teaching, world class research, technological innovation and consultancy within the sector.
'This award is recognition of the hard work and dedication of our team in the institute, as well as within the wider university.'
Lord Jack McConnell, the university's chancellor, who was also at the palace, will tonight host a special reception at the House of Lords to celebrate the accolade.
The Queen's Anniversary Prize is managed by the Royal Anniversary Trust, established to create a national programme of educational activities and other events marking the 40th anniversary of the Queen's accession in 1992, and in appreciation of her many years of service as head of state.