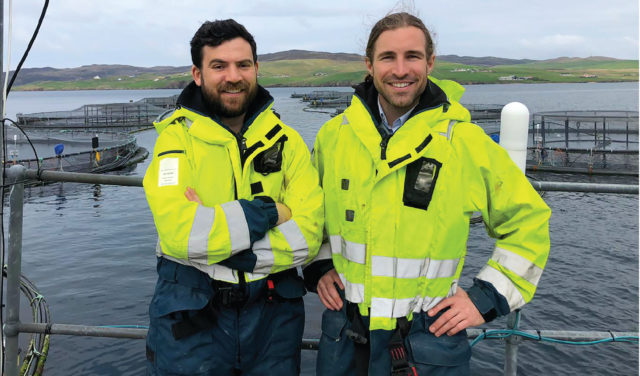 Unlocking the value of data in aquaculture – with a little help from space
Aquaculture is changing. Climate change, rising production costs, stricter regulations and issues of social acceptance have brought about a pressing need for improved practices within the industry.
Manually intensive farming methods and traditional practices can no longer guarantee yield at the production volumes required to meet a soaring global demand.
As the aquaculture sector grows to contribute around £600 million annually to the UK economy, pressure is mounting for aquaculture operations to expand. With fierce competition and costs rising, producers must embrace digitisation and technology to keep up.
A recent study found that only 1.8% of Scotland's 169 active seawater finfish sites are digitally enhanced; or fitted with smart sensors feeding live data back to producers. The 98% of unconnected sites leaves major potential for growth through gains in efficiency and productivity without the need for new farms.
Producers cite several obstacles for having struggled to adopt new digital solutions to date: added costs for uncertain returns, concerns over reliability and lack of technical know-how to cite a few. However, the single most significant barrier to digitisation of farms remains the lack of reliable connectivity.
Rising to the Challenge
R3 IoT, a Glasgow-based communications technology provider has solved this problem with a ground-breaking connectivity solution uniquely adapted to aquaculture. The R3 IoT Connected Seafarm enables secure and reliable transmission of sensor and other data over a hybrid satellite-cellular communications service. This means intel from farms located anywhere in the world can be transmitted back to personal devices (such as mobile phones or computers) in a cost-effective manner.
However, simply providing raw data is not enough. The R3 IoT platform unlocks the true potential of the Connected Seafarm by turning large quantities of raw sensor data into valuable actionable information. In turn, producers use tailor-made dashboards and insights to inform operational and strategic decision-making during day-to-day operation to help improve stock survival rates, predictability, fish wellbeing, and productivity.
The service is highly scalable, with the possibility of providing information from a vast array of environmental and operational sensors – up to 100s can be deployed across a single farm. These can range from important temperature and dissolved oxygen readings that are directly linked to the health and performance of the fish, to salinity, turbidity and total algae measurements which can warn of incoming dangers, and many more. Operational parameters such as feed levels for individual silos or generator fuel levels can help planning and save valuable time and money.
Solving Three Key Problems for Fish Farmers
Quality data from remote sites
Across much of the sector, environmental data from sea sites is still collected manually. Often a single data point collected once per day by hand, the data presents issues in latency, consistency, and availability. Whether it's the time taken to travel to site, collect, record and finally enter the data in a spreadsheet, or the lack of measurement when it isn't possible to travel to site, data needs to be timely and trustworthy to add the most value. It also needs to be collected from multiple points across a farm, such as inside individual cages, or at different depths as well as continuously, day and night to capture issues where and when they happen.
By tackling the issues above with a solution that does not depend on local mobile infrastructure to operate, the R3 IoT Connected Seafarm platform ensures any and all farms can unlock the value from digitisation and technology.
The recent Covid-19 induced lockdown has highlighted an even greater need for remote monitoring and control that can enable continued operations even when personnel movement is restricted. Furthermore, the R3 IoT service is already suited for future deep-sea farms whose distance from the shore will make communications and travel more challenging still.
Pressure for better practices
As the aquaculture industry continues to grow, governments, consumers, and environmental groups are increasingly calling for tighter regulations to the industry to combat perceived environmental issues such as emissions, pollution, and loss of biodiversity.
Maintaining healthy stock is essential to sustainable and profitable farming. The insight from the R3 IoT Connected Seafarm can help early identification of issues like Harmful Algal Bloom and the conditions that when combined cause loss of stock. Monitoring conditions inside individual cages can inform feeding strategy and reduce the wastage of a producer's single largest cost.
Observing water quality and pollution levels can help prove that farming practices are not having adverse effects on the surrounding environment. The ability to compare historical environmental and other data can also help identify or eliminate possible causes of issues and feed into training and improvements to husbandry practices within organisations.
Increasing demand for better product
The global fish farming market is expected to grow from $275 billion in 2017 to $379 billion in 2025. The World Resources Institute claims the capacity of fish farms globally will need to double between 2010 and 2050 to meet this projected demand. Closer to home, Scotland's aquaculture industry currently brings in a revenue of £1.8 billion, which the government aims to double by 2030.
At the same time, consumers are becoming increasingly conscious of the impact of their purchasing choices – the huge growth of organic and locally sourced produce reveals a better-informed consumer that is willing to pay more for food they can trust. Farming a better product and having the data from the Connected Seafarm to back it up means producers are armed with evidence they need to improve traceability, transparency and ultimately improving the relationship between the consumers and their food.
Collaborations
The talented team at R3 IoT have collaborated with many within the UK aquaculture industry to ensure the capabilities of the Connected Seafarm are perfectly aligned with the problems that need solved within the industry.
The capability and reliability of the service has been thoroughly demonstrated through several deployments across Scotland, and partnerships with renowned engineering service providers ensure that the technology can be coupled with the support and maintenance needed to maintain outstanding equipment performance.
With excellent support from research institutions around the country, R3 IoT has embarked on ambitious R&D programmes to continue improving the Connected Seafarm, particularly by bridging the gap between the data and the actionable insights as well as improving the ways in which farms can respond to issues and threats when these come to light.
Conclusion
Farms no longer need to be remote, isolated operations left to the whims of unpredictable events. Through the R3 IoT Connected Seafarm, companies have constant, continuous links into the essential parts of their business, mitigating threats to stocks and reducing costs, ultimately ensuring your business is ready for the future of aquaculture.
R3 IoT is always on the lookout for the chance to demonstrate the value of the Connected Seafarm through pilots – get in touch with them if you would like to see it in action on one of your sites.
You can reach them at contact@r3-iot.com for any additional information or to obtain a copy of the Connected Seafarm catalogue showing the range of solutions for your farm.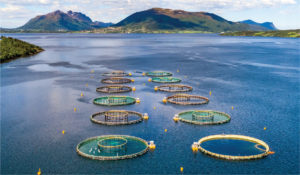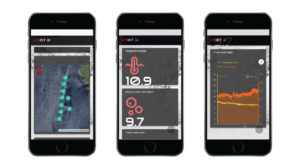 Captions:
Featured: Co-founders of R3 IoT, Allan Cannon and Kevin Quillien, on site in Shetland in 2019 where the pilot service provided 100% up time over an extended 9 month trial.
1 -: Remote sites anywhere in the world can be connected via the R3 IoT technology providing new opportunities for innovation in the industry
2: A intuitive User Interface makes it easy for Senior Management and Farmers alike to see what's going on on the farm. This can be easily configured depending on customer requirements.