Proximar strikes exclusive distribution deal for Japan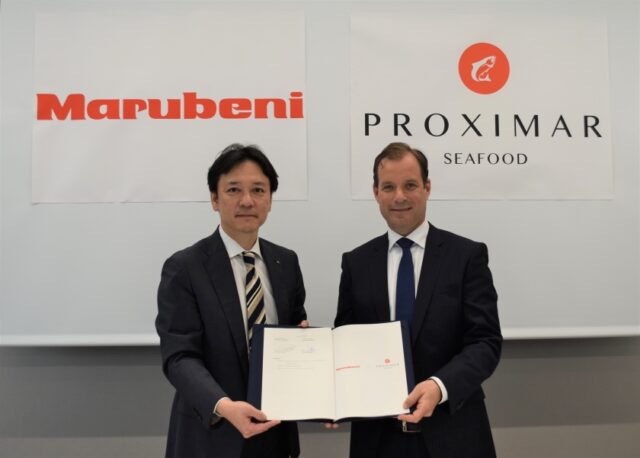 Proximar Seafood, the Norwegian company building a large land-based salmon farm near Mount Fuji, has entered into a distribution agreement with one of Japan's largest distribution companies.
The deal is with the Marubeni Corporation, which is known in Japan as a sōgō shōsha or general trading company. Founded in 1858, Marubeni is one of Japan's oldest businesses.
It will become the exclusive distributor for all Atlantic salmon produced at Proximar's Mount Fuji RAS (recirculating aquaculture system) site now in the final stages of completion.
CEO of Proximar, Joachim Nielsen, said: "Teaming up with Marubeni is a key part of our partnership strategy and brings us one step closer to supplying fresh salmon to the Japanese market.
"We now have a sales and distribution partner in Japan with superior market insight and access, reducing risk and increasing pricing power."
He added: "The agreement with Marubeni provides Proximar significant resources in terms of sales and marketing, and we share the same views in terms of our products' attractiveness."
The agreement covers sales of all volumes produced by Proximar for the Japanese market and has an initial term of 10 years. Both parties will be actively involved in the marketing efforts, with the aim to build a strong premium sustainable seafood brand.
Kazunari Nakamura, General Manager of Marubeni's Fresh Food department said Japan, which consumes 60,000 tonnes of salmon annually, is only 57% self-sufficient in seafood, so securing a stable supply is of great significance.
"Together with Proximar, we will continue to take on the challenge of ensuring a stable supply of Atlantic salmon for Japanese consumers," he added.
The construction of Proximar's facility will be completed next year but its hatchery will start operation towards the end of this year, with harvesting to begin from mid-2024.
For 2024, the expected harvested volume is around 2,500 tons (head on gutted weight), increasing to targeted 5,300 tons (head on gutted weight) when operating at full capacity in 2027.