Proximar CEO stresses food security role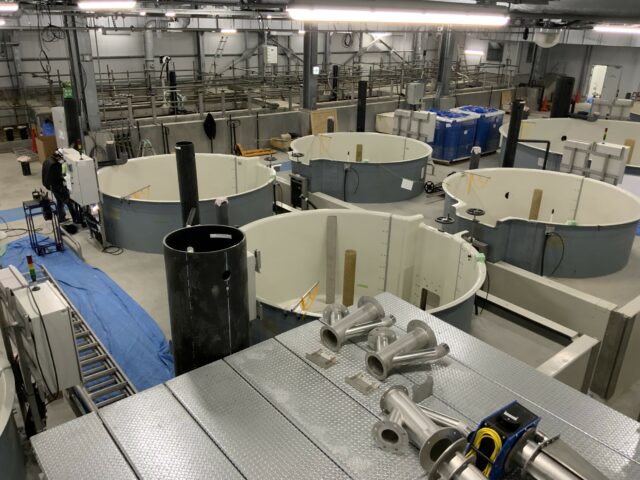 The head of Proximar Seafood, the company building a land-based Atlantic salmon farm in Japan has predicted that global unrest will see an increase in countries wanting to step up their food security.
He also confirmed that the company's capital expenditure on the facility, near the foot of Mount Fuji in Japan, was still within expectations and construction has been progressing according to plan. The hatchery and nursery building were handed over to Proximar in October.
Presenting Proximar's annual report,  chief executive Joachim Nielsen told investors that self-sufficiency in international food trade had not been given a high priority in recent decades.
He went on: "But following geopolitical instability both in Europe and Asia we expect to see increased focus on and strategies for locally produced food.
"This topic will be a top priority on the national agenda. Japan's self-sufficiency rate has been falling for decades, and is now becoming a substantial concern.
"According to the Financial Times (2022, September 8) Can Japan feed itself? Japan has one of the lowest self-sufficiency rates compared with other major countries – approximately 38% today."
"Proximar is proud to be playing a key role in local food production, aiming to be a leading provider of sustainably produced seafood in Japan," he added.
CEO Nielsen continued: "The hatchery and nursery building was finished in October and we were able to start the production stage as planned when the first batch of eggs was brought into the hatchery.
"We are now officially a production company of Atlantic salmon. The production stage requires us to have more colleagues in important, operational positions.
"We have successfully recruited highly qualified and motivated people for key manager positions in Japan, and will continue with further recruitments to build our production team and other operational positions."
He concluded: "Proximar is better positioned than ever. The robust outlook of the Atlantic salmon market in terms of supply and demand, combined with the increased need for local food production and sustainable options, are further strengthening our expectations.
"With our highly dedicated and experienced team, the attractive market fundamentals, and a unique and competitive position, we remain very confident and optimistic of delivering on our plans.
"We will continue developing Proximar and creating long-term value and growth for our shareholders, by becoming a leading supplier of Atlantic salmon in Japan and the rest of Asia."
The report states that the company's operations started in the fourth quarter of 2022, when the first eggs were inserted. The second batch arrived in December and monthly batches are planned going forward.
Through the past 12 months, Proximar:
successfully raised a convertible loan of NOK 250m (£19m) in a challenging financial market;
increased the JA Mitsui construction financing by another JPY 750m (£4.7m) to a total of JPY 3.25 billion (£20.3m);
further strengthened its partnership with distributor Marubeni with a firm agreement to take up the entire volume from Proximar's first facility for 10 years (Marubeni has also invested in Proximar's convertible bond); and
was awarded the highest sustainability rating by the Japan Rating Agency (JCR).