Ocean Farm 1 gets new licences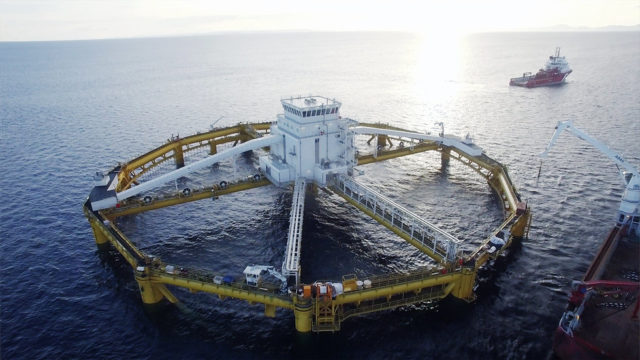 THE salmon farming group SalMar has been give the go-ahead to convert eight development permits into fish production licences for its giant revolutionary offshore 'sea cage' known as Ocean Farm 1.
The decision by the Norwegian Directorate of Fisheries, follows a comprehensive investigation and full report which is open to examination.
The announcement was welcomed by SalMar, which has a 50 per cent stake in Scottish Sea Farms. The company said:
'SalMar is proud that in this way we have completed a project that we believe is ground breaking in the work of developing an increasingly sustainable aquaculture industry.
'Behind the project is a unique interdisciplinary partnership between Norwegian and foreign players with leading expertise in aquaculture, offshore and relevant research. In the realisation of this project, SalMar has helped to fulfill the authorities' goal with the development permits to solve important environmental and area challenges facing the industry. SalMar has so far used approximately NOK 1 billion to design and develop Ocean Farm 1, where over 50 per cent of these have been deliveries of services and equipment from Norwegian expertise companies.'
The conversion does not affect the operation of Ocean Farm 1, which is now in the final part of the second production cycle. Standing almost 70 metres high and with a diameter of 180 metres and able to hold three million smolts, Ocean Farm 1 has been described as the start of a new era in aquaculture.
Further expansion is on the way. SalMar added:
'The positive experience gained from the operations in the first two releases will lay the foundation for Ocean Farm 1 to continue to be an important production unit in SalMar's total fish farming operations. SalMar has already started a project for a closer assessment of the financial and technical prerequisites for building more units of a similar design as Ocean Farm 1 in more exposed areas within the scope of the Planning and Building Act. Our experience of Ocean Farm 1 underpins SalMar's strong belief in sea-based farming.'