Norway egg ban 'boost for Scottish broodstock'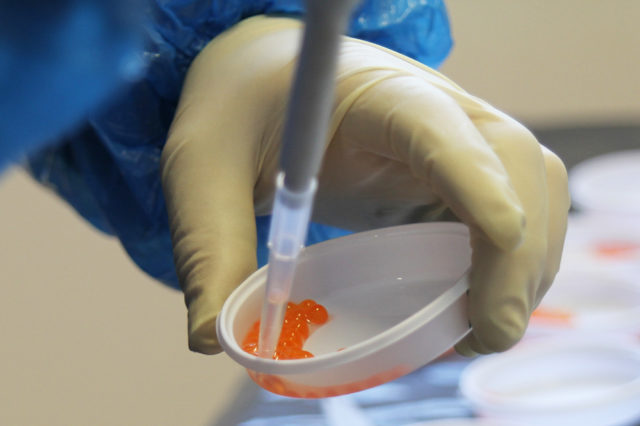 A BAN on the import of salmon eggs from Norway, introduced last summer, could be good news for the Scottish industry in the long term, sources said.
Since the temporary salmon and trout ova ban came into force in June 2019, after fears over infectious salmon anaemia (ISA), farmers in Scotland have had to turn to other suppliers.
Marine Scotland figures show that Norwegian firm AquaGen has lost much of its market share in the past year.
The main beneficiary to date has been Iceland's Stofnfiskur, owned by UK company Benchmark. Farmers have also sourced salmon eggs from Ireland, both north and south.
But new facilities in Scotland, including AquaGen's freshwater hatchery at Holywood near Dumfries, should be able to supply much of Scotland's needs in the future.
'For a number of players in the market, this is quite opportune and it would be a good news story if broodstock is moved back to Scotland,' said an industry insider. 'The capacity is here and there are people here looking to increase capacity accordingly.'
Fergus Ewing, Scotland's Rural Economy minister, said last year that the development of AquaGen's Scottish hatchery, formerly owned by Scottish Sea Farms, supported the aims of Scotland's 10 Year Farmed Fish Health Framework, 'helping to improve the security of Scotland's ova supply'.
AquaGen said the investment in Scotland provided customers with a secure supply of eggs and opened up the possibility of supplying these eggs from locally grown broodstock.
AquaGen CEO Nina Santi said last March that the company was planning a series of upgrades, and longer term it hoped to extend to year-round production to up to 50 million eggs.
Other companies providing salmon ova in Scotland include Hendrix Genetics, which has its own broodstock and supplies, for example, the Scottish Salmon Company's Native Hebridean broodstock programme.
In the past, Hendrix criticised Scottish ministers for not banning imported eggs from Norway, after the Norwegians stopped the import of Scottish ova, citing concerns over the genetic mixing of escaped farmed salmon.
A Marine Scotland spokesman, quoted by Intrafish this week, said: 'Since the suspension of imports from Norway, new salmon hatchery facilities have come on stream in Scotland, supplying much of Scotland's ova needs.
'In addition, Scottish fish farmers continue to use their own broodstock and are importing more ova from elsewhere, including Iceland which operates within an approved zone free from listed disease.
'We are confident Scotland's aquaculture industry has access to an adequate supply of salmon ova and don't expect any impact on production in 2021 and 2022.'
A spokesman for the Scottish Salmon Producers Organisation (SSPO) said although there had been sector wide discussion when the ban was first introduced, it had not been an issue since.
'It hasn't been a problem as yet and nobody is perceiving it as being a problem for the sector going forward,' the SSPO spokesman said.
'There are other suppliers that are continuing to provide ova and there is no worldwide shortage. It is business as usual.'
The restrictions follow an EFTA inspection in May last year and relate to the certification of aquatic animals from ISA free compartments and do not relate to all exports, according to the Scottish government.
The SSPO added: 'There was no sense of panic last year and there hasn't been since. The ban remains in place as a precautionary principle rather than because there is an ongoing problem. The Scottish industry is being extra diligent and responsible.'