Norway 'can hit NOK 200 billion within decade'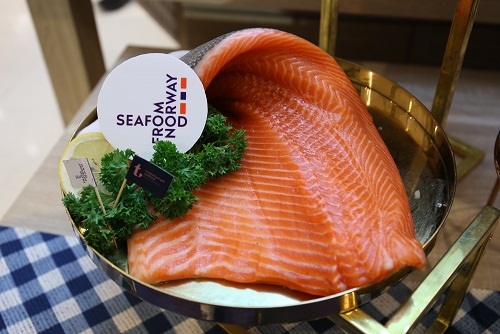 NORWAY'S seafood chief has said the country has the potential to double its exports to NOK 200 billion a year within the next decade.
A jubilant Renate Larsen was speaking after she revealed that sales in 2019 had hit a record NOK 107.3 billion.
The CEO of the Norwegian Seafood Council said: 'We see an increasing trend, especially among young people, that climate, environment, and health are becoming increasingly important. The willingness to pay for more sustainable food is increasing in most markets.
'Our surveys and seafood studies show that consumers around the world already largely perceive seafood from Norway as safe, sustainable and high quality.'
Larsen added: 'If we are even more able to position Norwegian seafood as the most sustainable choice, our calculations show that the export value can also be doubled over the next 10 years, to NOK 200 billion (£17.2 billion).'
The EU, which will include Britain until the end of this month, remained the largest market last year, buying NOK 68 billion (£5.8 billion) worth of seafood from Norway.
However, volumes were down by seven per cent while the overall value rose by four per cent.
Poland, with its extensive processing facilities, was the main buyer, followed by Denmark. But China is fast coming up on the rails and is now the seventh most important market for both salmon farmers and white fish companies.
Larsen, who has recently returned from a visit to Tokyo, said the Japanese market should not be overlooked.
'In 2016, we exported well over 34,000 tonnes of salmon. In 2018, that figure dropped to just over 32,000 tonnes. However, the value has remained fairly stable at around NOK 2.5 billion, but we need to sell more salmon to Japan.'
And Tom-Jørgen Gangsø, director of market insight and market access at the Seafood Council, said this week's figure showed that the aquaculture sector had grown by 140 per cent and fishing by 50 per cent over the past eight years.