Norcod, Havlandet start construction at fry site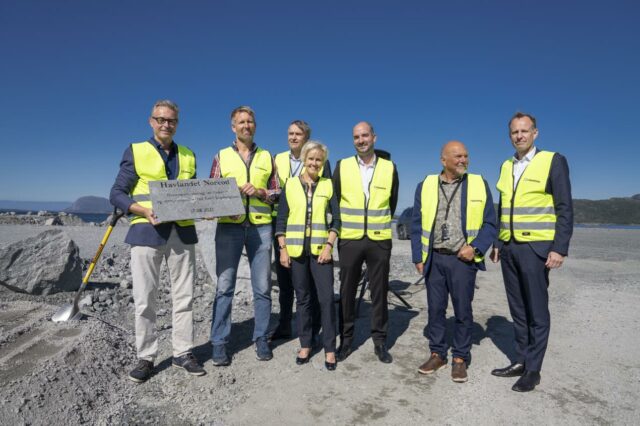 Norwegian cod farmer Norcod and fry producer Havlandet Marin Yngel have broken ground at the site of what will be a jointly owned cod fry facility.
Norway's Fisheries Minister Odd Emil Ingebrigtsen wielded a spade for the ceremonial first cut at the site, in Florø. The facility, when completed, has a licence to produce 24 million fry per year and it will start operations in the autumn of 2022.
Ingebrigtsen said: "The renewed focus on cod farming is tremendous. Given the improvements made in breeding and production methods, cod farming now has a much better starting point for profitable production than in the past.
"Land-based industry also has an important contribution to make by providing more stable access to raw materials. It opens new possibilities for year-round employment locally in the districts, which is especially important to keep people from moving away. This is a great day and a great investment in cod farming. I fully support all those who are making it happen."
Norcod is listed on the Oslo Euronext Growth stock market, and it aims to be the world's first industrial-scale producer of responsibly farmed cod. It already runs farms on the mid-Norway coast.
Havlandet has 20 years' experience in land-based breeding and production of cod fry, but only a few years ago had no buyers for the product as the fledgling industry collapsed after the financial crash of the 2000s.
The company says its fry programme continued only out of optimism that the market would one day return, but the arrival of Norcod and now other companies looking to grow cod is creating unprecedented demand.
Havlandet managing director Halvard Hovland said: "This is a key milestone for Havlandet. We started cod breeding back in 2000 and thanks to the enthusiasm and dedication of our team made great progress both in terms of growth rate and health of the fish.
"If everything goes to plan, we also want to build a land-based production facility for juveniles and food fish. We're really happy to be working with Norcod on this first phase of a bigger expansion at Fjord Base and are proud to be supporting them in breathing new life into the business of cod farming."
Marit Solberg, Chair of Norcod's board, commented: "Building this brand-new fry facility is an important step for Norcod on our journey towards achieving harvest volumes of 25,000 metric tonnes of fresh farmed cod in the coming years. It also cements our collaboration with Havlandet as a strong platform for the future."