New French factory will scale up insect meal production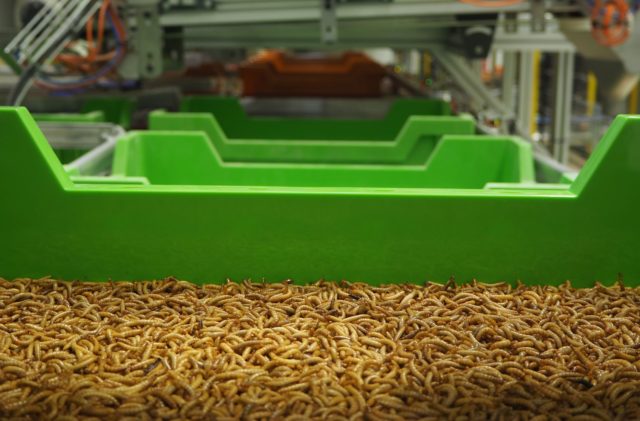 A FRENCH company producing insect meal as an alternative protein in fish diets has been given €20 million EU backing for a new factory.
Ynsect, one of the early pioneers of insect aqua feed, today announced the development, which will produce protein from mealworm beetles (Tenebrio molitor).
The new Poulainville plant, on the outskirts of Amiens in northern France, will be the first fully automated industrial facility to produce premium insect protein.
The unit, due to open in 2021, will have a capacity of more than 20,000 tonnes of protein a year, with the potential to ramp up production to over 200,000 tonnes, with revenues of around €1 billion and the creation of 1,200 direct and indirect jobs.
Ynsect claims the new 'Farmying' project will benefit the environment by avoiding the need to reduce wild fish stocks by 800,000 tonnes.
Skretting is one of the feed companies that will incorporate Ynsect protein into animal diets. The insect meal will also be used in pet food and organic plant fertilisers.
Ynsect said mealworm was the insect species best suited to being farmed on an industrial scale. It consumes all sorts of organic matter, even low grade materials.
It also grows quickly and requires less space, less earth and less water than other animal protein sources. And it gives off less ammonia and fewer greenhouses gases than other premium animal proteins.
The technology used in the Farmying project was developed by Ynsect, which has 25 patents on its innovations.
The technology is already being used at the first Ynsect site in Dôle, in the Jura region of eastern France, which has a capacity to produce up to 30 tonnes a month. The new factory will boost monthly output to over 1,500 tonnes of protein.
The Amiens site also features many data sensors enabling Ynsect teams to develop predictive models to track insect productivity and growth.
Speaking at the official launch, Antoine Hubert, CEO and founder of Ynsect, said the Farmyng project would 'lay the foundations for a new protein supply chain to meet the world's immense food challenge'.
'Europe is demonstrating its global leadership in alternative protein sources and is home to trailblazers throughout the value chain,' he said.
Philippe Mengal, executive director of co-funder Bio-Based Industries Joint Undertaking (BBI JU), said: 'For BBI JU, funding the first industrial bio-refinery able to turn insects into premium, high value proteins for animal feed and fertilisers was a strategic priority.
'One of our key goals is to de-risk investments like this that have a significant socio-economic impact.
'The flagship Farmyng project will also further BBI JU's strategic aim of reducing the EU's reliance on massive protein imports.'