Mowi's new barge 'will make big difference'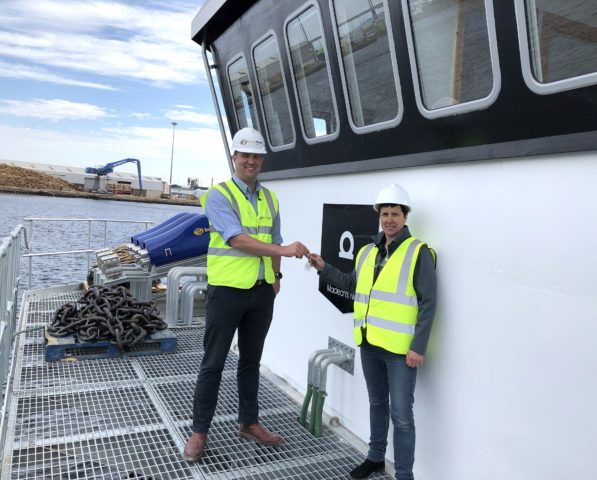 A NEW SeaMate concrete feed barge has been delivered to Mowi's seawater site at Maclean's Nose by the Ardnamurchan Peninsula.
The 400-tonne vessel, built in Inverness by Gael Force, features the very latest technology and innovation, increasing not only the efficiency of Mowi's operation but also the comfort onboard for the team.
The SeaMate incorporates a six-line SeaFeed feeding system which can distribute 400 tonnes of feed.
Rosie Curtis, manager at Maclean's Nose, explained the difference the new feed barge will make to the farm.
'This new barge will make a real difference to our efficiency at Maclean's Nose as it will be able to feed more than one pen at a time.
'It will also provide a much better and more comfortable working environment for the team.'
Staff onboard will benefit from underfloor heating, showers and a fitted galley kitchen.
Ten staff will work onboard in a two weeks on/two weeks off shift pattern.
Stephen Offord, production director at Gael Force, said: 'We are delighted to see our latest SeaMate feed barge make its way to Maclean's Nose.
'Mowi has received an advanced feed barge along with the highly innovative SeaFeed feeding system installed on board.
'Our skilled team has worked collaboratively with Mowi to ensure we addressed all their needs for the site and, as a result, I am very confident this kit will support them in safely and sustainably growing their salmon to a superior standard.
'We are prouder than ever of the strong customer supplier relationship we have built with Mowi over the years and our very best wishes go to Rosie and the team at Maclean's Nose.'