Mowi Scotland poised to deliver bumper Q3 harvest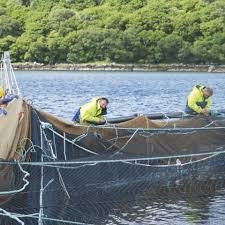 MOWI Scotland has delivered a bumper harvest, more than doubling its output during the third quarter of this year, trading update figures show.
However, the slump in prices this summer means that operating profits across the group worldwide are likely to be down.
The Scottish harvest of 19,500 tonnes is more than double the 9,000 tonne figure for the third quarter period between June and September last year.
And it is approaching a third of the 63,500 tonnes production in Norway, Mowi's home base. Norwegian production in Q3 2018 was 71,500 tonnes.
The harvests from both Mowi Canada and Mowi Chile have gone up, while Ireland remains the same at 2,000 tonnes.
The total harvest for the group should be around 117,000 tonnes, higher than the company's own forecast of 113,000 tonnes.
Mowi, the world's largest fish farmer, has been hit by the recent slump in salmon prices, like almost all northern aquaculture companies.
Predictions vary, but Mowi is tipped to report Q3 operating profit of around 146 million euros for the period between July and September, compared with €207 million last year.
Other analysts are suggesting a figure of around €155 million. The profits picture is in stark contrast from August this year, when the company unveiled its 'best ever' second quarter results with an operating profit of €211 million.
Since then, it has been hit by problems at its Atlantic coast Canadian operations, where rising sea temperatures have led to high mortality rates. It has also run into a political row and seen its licences suspended in the Newfoundland and Labrador region.
The last few months have seen prices fall close to production cost levels, due in large part to increased output from all northern hemisphere salmon producing countries.
Some observers remain baffled by such a sharp decline when demand remains strong.
The Christmas buying season for frozen salmon is currently in full swing, which has brought an encouraging upturn in prices over the past week.
The spot price in Norway for medium sized salmon has increased by over five kroner per kg in recent days.
Mowi will announce its full third quarter results on October 30.