Mowi hits back at welfare allegations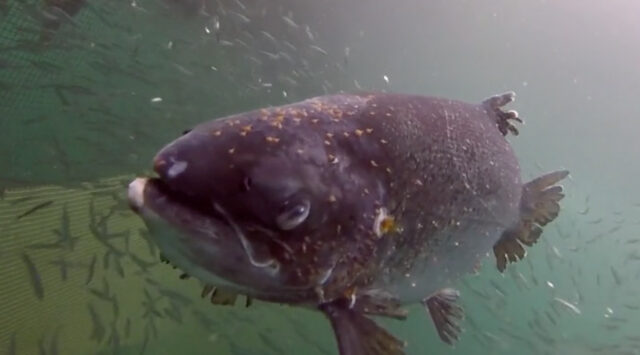 Covert video footage of distressed fish published by campaign group Scottish Salmon Watch at four of Mowi's salmon farms does not represent the state of welfare of Mowi's fish, according to the company.
Mowi was responding to a complaint raised by Salmon Watch following unauthorised underwater filming at four of Mowi's farm sites in Scotland – which have not been named – on 16 and 17 July.
The images showed individual salmon heavily infested with lice and also dead salmon and lumpfish. Salmon Watch founder and anti-fish farming activist Don Staniford has filed a formal complaint under the Animal Health & Welfare (Scotland) Act 2006 to Police Scotland's Wildlife Crime Unit, Marine Scotland and the Animal and Plant Health Agency (APHA).
Salmon Watch has also called on supermarkets to suspend the supply of salmon from the farms concerned.
Don Staniford said: "The Scottish Government should immediately close down Mowi's disease-ridden farms and supermarkets should stop selling RSPCA Assured Scottish salmon. The RSPCA's stamp of approval is now synonymous with welfare abuse. Shame on RSPCA Assured for endorsing lice infestation, mass mortalities, infectious diseases and unnecessary suffering."
In a statement responding to the allegations, Mowi said: "As is the case with all types of farming, there will unfortunately be times when individual animals are in distress, and these isolated examples can be understandably concerning to the public as well as the farmer. Farmers and veterinarians will do whatever they can to treat animals under their care, or, when circumstances require it, may have to choose to humanely euthanise the animal."
Mowi pointed out that similar allegations filed in March of this year were investigated by RSPCA Assured, which audits all Mowi's farms in Scotland. The agency found no evidence to support claims of abuse and certification for the farms concerned was reinstated.
The company also notes that fish from one of the farms concerned were sent to market on 19 July, the day the complaint was filed, with a healthy average weight of 5.71kg, and more than 98.8% were graded by experts for scale quality and general condition as "superior" grade.
Mowi quoted veterinarian Jaime Santana, who attended the processing of BDNC salmon on 19 July at Mowi's Blar Mhor processing plant in Fort William and reported: "The salmon are in really great condition with acceptable parasite load, good integrity of the skin, and are receiving a high rate of salmon being categorised as superior."
Ben Hadfield, COO of Mowi Scotland said: "We care very much for the welfare of our salmon, every day, and don't like to see even one animal suffer. Our experienced farmers are supported by fish health experts and veterinarians that help to ensure animal welfare is attended to every day, and these results are inspected by professional third-party organisations.
"While we take claims of poor welfare very seriously, this allegation is from an individual who has never worked in the business, has failed his schooling, has previously made similar unsupported claims, has been found guilty of defamation and was described by the court judge as a 'zealot'.
"If he wants a job as an animal welfare inspector, he should apply for work like everyone else."
l