M & S support for Scottish salmon farmers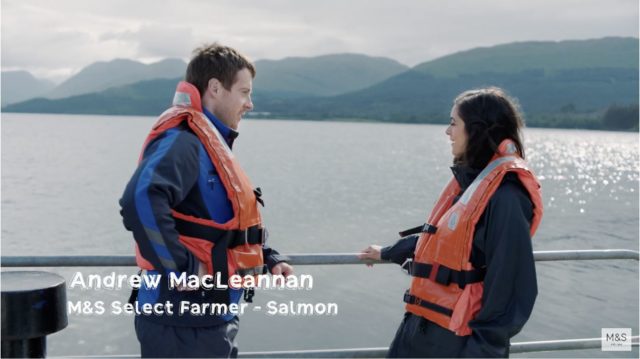 TOP UK retailer Marks & Spencer has publicly pledged its support for Scotland's salmon farmers.
In a Covid crisis message to tens of thousands of on-line customers, titled 'See How We Support Our Salmon Farmers', the company said that message was now more important than ever, adding that its salmon was always 100 per cent Scottish. M&S has more than 900 stores across the UK, most of which sell food.
The message said:
'All M&S fish is always responsibly sourced, and 100 per cent of our farmed salmon is Scottish. That means when you tuck into flaky, succulent salmon, you're supporting M&S Select Farmers during these challenging times.
It was accompanied by a 'fresh market update film' with ITV weather presenter Lucy Verasamy visiting Loch Linnhe on the west coast of Scotland where she met fish farmer Andrew MacLeannan who has been supplying the retailer with salmon since 2006.
Filmed before lockdown and social distancing, the video maintains that its fish is special because of the clean water and strong current environment in which they are bred. This, it claims, helps the fish to grow big and strong.
Andrew MacLeannan maintains that his salmon can swim up to 4,000 km (2,480 miles) during their lifetime. 'Welfare is our highest priority,' he says. 'And that's what's great about working with M&S – its values match ours'
When the popular TV presenter openly admires the loch's stunning backdrop, MacLeannan tells her: 'What you see now, you can mimic under water. Its the perfect environment for the fish.' He adds: 'All my family have worked in salmon farming. I have a passion for it.'