Loch Duart to promote hale and hearty diet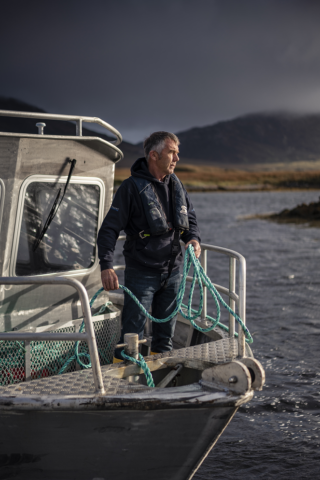 Independent salmon farmer Loch Duart has partnered with charity HEART UK to help tackle the problem of excess cholesterol.
HEART UK is Britain's only cholesterol-focused charity, and Loch Duart will be collaborating on a number of events with the organisation, including charity challenges. The company will also be promoting healthy salmon-based recipes.
Dietary experts say omega-3 fats, found in salmon and other oily fish are an important element in a healthy diet. Loch Duart stresses that its salmon have a high level of omega-3 , up to double the levels of some other salmon sold in the UK, thanks to the high marine content of their feed.
Adam Gray, Marketing and Communications manager at Loch Duart, said: "We are proud to announce our partnership with HEART UK, the country's leading charity working to prevent early disease and deaths from cholesterol. It is a perfect collaboration for Loch Duart, and we're committed to participating in and supporting a range of HEART UK's charity challenges and supporting their vital work. Some of the Loch Duart team have already signed up to their events.
"As well as partnering on a variety of HEART UK events, we have curated some simple, healthy and tasty Loch Duart salmon recipes which we'll be sharing over the coming months. We support the HEART UK message that people can take action to improve their health and lower their cholesterol, by adopting an active lifestyle, combined with a healthy diet. Our strategy on feeding our salmon with higher levels of marine content delivers industry-leading levels of omega-3.  We believe that we are pulling in the same direction as HEART UK by producing salmon rich in omega-3 and promoting healthy lifestyle choices".
More than half of UK adults have raised cholesterol, putting them at risk of heart attacks, strokes and vascular dementia. Raised cholesterol is the most common risk factor for cardiovascular disease and it can affect anyone, even the young and otherwise healthy.
Lynne Garton, Dietetic Advisor at HEART UK, said: "There has been lots of research into omega-3 fats and oily fish, such as Loch Duart salmon, and how they can improve heart health. Omega-3 fats are a group of unsaturated fats that we need to stay healthy – especially for heart health. Eating foods high in omega-3s could help to prevent heart attacks and strokes and we are absolutely delighted to partner with Loch Duart to help prevent heart disease across the UK by promoting a healthier, balanced diet."