Iceland's largest aquaculture centre opens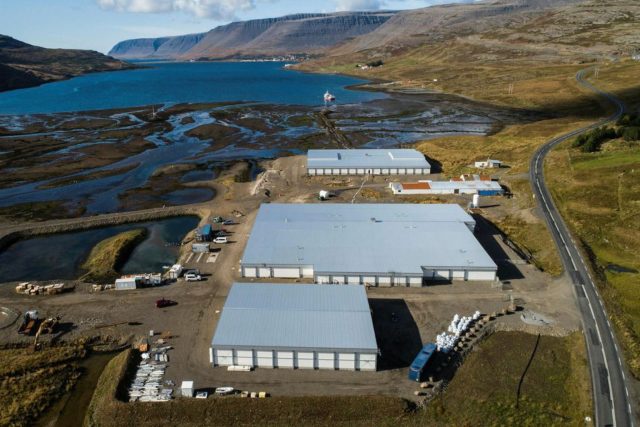 A HUGE new aquaculture breeding and hatchery centre has opened for business in the west of Iceland, on a remote fjord more than 250 miles from the capital Reykjavik.
The £25 million (ISK 4 billion) Arctic Fish owned facility covers 10,000 square metres near the small fishing harbour of Tálknafjörður, where the company is currently engaged in a major expansion of its salmon farming operations.
It is also Iceland's largest aquaculture centre and has been built with further expansion in mind.
It will bring dozens of new jobs to an area of the country that has lost much of its traditional fishing activities.
The building will house a wide range of activities, including breeding and hatching, and is connected to one of the world's most advanced (RAS) water recycling systems.
Managing director of the centre, Sigurður Pétursson, told an audience at the opening ceremony that the plant uses geothermal heat and was the only water recovery operation of its type in the world.
He pointed out that the land based period was likely to be longer than the marine period, with fish grown to at least 200g before transfer to sea.
'This will shorten the time in the sea and the intention is that the salmon will only be one winter in the sea, but not two at present.'
Arctic Fish, which is part owned by Norway Royal Salmon, made company history recently when it shipped its first consignment of tariff free salmon to China, using the established NRS distribution network in the Far East.
The opening comes just a year after Arctic Fish and another Icelandic salmon farming company, Arnarlax, were forced to shelve growth plans.
Their licences were revoked following objections from various conservation groups. Those licences have now been successfully restored and are valid for at least 10 years.
Arctic Fish CEO Stein Ove Tveiten said he was proud to be involved with the project, adding that the new centre was of the highest quality and utilised the best available technology.
The company also has a farming operation nearby at Patreksfjordur. Together, the two centres will harvest up to 17,500 tonnes of a salmon a year.