Iceland company to spur growth with its first feed barge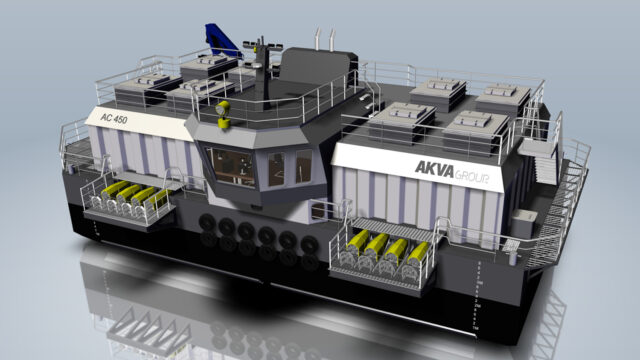 Icelandic fish farm company Háafell ehf has chosen AKVA group to supply its first feed barge.
The impressive AC450Comfortf barge will be put into operation at the company's locations in the west of the country.
Gauti Geirsson, CEO of Háafell, said his company had more than 20 years' experience in cod and rainbow trout farming and was now moving into an exciting development phase with salmon farming.
He said: "With a new production permit of 6,800 of salmon (granted last summer) and investment in the company's first barge, we have taken an important step.
He added: "We are very pleased to have reached an agreement on the delivery of a well-equipped feed barge within a limited time frame with AKVA group, which we consider a solid and competitive supplier."
Háafell is a subsidiary of the larger integrated fishing company Hradfrystihusid-Gunnvör hf. which was started in 1941 at the height of the Second World War by a group of trawler owners as a traditional fish freezing company. It is now involved in conventional deep sea trawling and fish processing as well as fish farming.
Powered by shore based renewable energy, the barge will be put into operation in the Ísafjarðardjúr fjord.
Roar Ognedal, Akva regional manager for Southern Norway and the Nordic countries, said: "We are very grateful that Háafell chose AKVA group as supplier.
"We have been following this company for a long time, and I am very pleased that they are now in the process of producing salmon.
"With our AC450Comfort feed barge, Háafell gets an established barge model with all the facilities and equipment needed for reliable operation at the locality."