Hebridean smoked salmon shortlisted for international award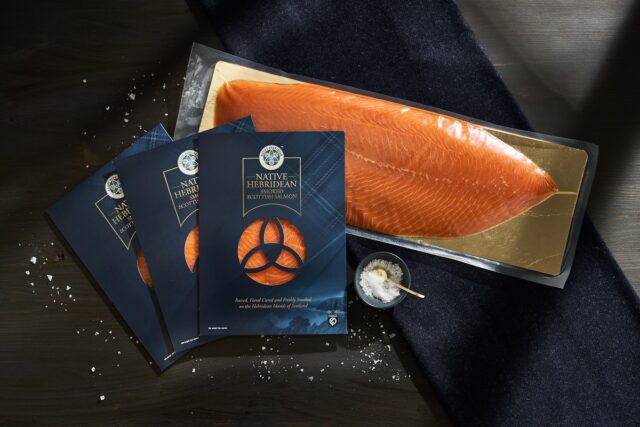 The Scottish Salmon Company's native Hebridean smoked salmon has been shortlisted for an international award.
SSC's product is among the final four contenders in the Best New Foodservice Product category in the Seafood Excellence Awards. The final judging will take place at the Seafood Expo North America/Seafood Processing North America show in Boston on Sunday 13 March.
The fish is a unique strain of Scottish salmon, originally bred from wild Hebridean salmon in North Uist and reared exclusively in and fully traceable to the remote waters of the Hebridean islands and West Coast of Scotland.
Using a traditional island recipe, fresh fillets are hand cured at SSC's Harris & Lewis Smokehouse on the Isle of Lewis in the Outer Hebrides.
The native Hebridean is then gently smoked in a traditional pebble-lined kiln using wood shavings of aged Scotch whisky barrels.
Su Cox, Communications and Business Development director at The Scottish Salmon Company, said: "Native Hebridean is truly unique and this nomination is further recognition of how the product is highly prized by top chefs and the hospitality trade.
"Our Native Hebridean Smoked Salmon offers the discerning consumer a truly Scottish delicacy with unique heritage and is fully traceable to the Hebridean islands and West Coast of Scotland. It is truly our Hebridean hero!"
SSC is part of the Bakkafrost group. Last year native Hebridean smoked salmon was a category winner in the Great British Food Awards.
The finalists in the foodservice category are:
Bakkafrost/SSC – Native Hebridean Smoked Scottish Salmon Side
Handy Seafood – Chesapeake Bay Panko Breaded Oysters
Netuno USA – Cobia Panko Bites
Seagrove Kelp Co. – Seagrove Ribbon Kelp
The finalists in the Best New Retail Product category are:
DOM International Limited – DOM Reserve Salmon Poke
Neptune Snacks – Wild Alaska Pollock Jerky
Ocean Beauty Seafoods – Echo Falls Wild Alaska Hot Smoked Sablefish
Ocean Beauty Seafoods – Echo Falls Wild Alaska Sockeye Salmon Tapas Slices – Mediterranean
Pacific Seafood ­– Tidal Tots
Pescanova USA – Pescanova Branzino* with Pesto Sauce
Kitchens Seafood, Inc. – Honey Walnut Shrimp
*sea bass