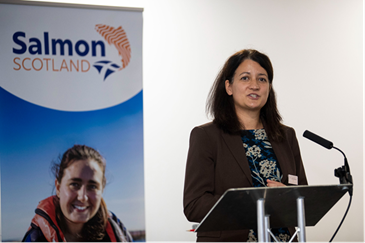 The customer and the environment are at the heart of Mowi's latest initiatives
In a year where holding steady may have seemed the logical plan, Mowi continued to forge ahead in 2021 with several initiatives that have one goal in focus: to increase customer confidence and loyalty for its business and products.
The valued chain
Over 12,000 employees add value, every day, throughout Mowi's business. With focus on their particular expertise, it may not be obvious to all involved that their contribution to each part of the company's integrated value chain is connected and working to build customer confidence in our business practices and seafood products.
In 2021 – a most challenging year given a pandemic and complications of Brexit – numerous initiatives continued to build on Mowi's strong reputation that has earned and maintained the company's ranking as the world's most sustainable animal protein producer.
The plan
Mowi's "The Blue Revolution Plan" and Salmon Scotland's Sustainability Charter (A Better Future For Us All) help set a clear sustainability path, that collectively touches on every corner of Mowi's business, from feed to fork.
Speaking at Glasgow's COP26 in November 2021, Catarina Martins, chief technical officer at Mowi said: "Our strategy is based on three pillars: being part of the solution to global changes where we have set GHG [greenhouse gas] emissions reduction targets aligned with the Paris agreement and approved by the Science Based Targets Initiative. Within this pillar we have also set specific targets on reducing [the use of] and increasing the recyclability of plastic, for both farming plastic equipment and packaging.
"The second pillar of our strategy aims to use an eco-efficient value chain, here we run a number of energy, waste and freshwater use reduction initiatives across more than 30 processing plants around the world.
"Finally, we aim to farm in harmony with the sea by using sustainable feed raw materials, certify all our harvested volumes with independent and recognised standards accepted by the Global Seafood Stewardship Initiatives, maintain the level of biodiversity in the areas where we farm and respect the health and welfare of our animals.
"This plan will allow us to achieve our goal of producing more food from the ocean, thus meeting the demands of a growing population while respecting the planet and helping local communities to flourish."
The actions
Bringing the Plan and Charter into action, Mowi Scotland continued with several initiatives that look to benefit the communities, employees, and customers. These actions have included:
Affordable Housing
Acknowledging the shortage of affordable housing in many regions where the company operates, Mowi, along with Argyll and Bute Council, Highlands and Islands Enterprise and the Communities Housing Trust, has worked with the Colonsay Community Development Company to build a 12-unit affordable housing development on the Isle of Colonsay. This latest development compliments similar Mowi builds on the small islands of Rum and Muck.
Post-smolt
At Mowi's Capital Markets Day in March 2021, COO Ben Hadfield announced: "We plan a series of semi-closed containment operations in Scotland. This is expansionary biomass and it's aimed at increasing our post-smolt stocking potential. We do this because we want to reduce the farming cycle and improve harvest volume, and it also improves biology in the sea with increased fallowing and better fish welfare.
"The aim is an increase in post-smolt stocking rate up to 800 grams, and we're confident that with the temperatures we have in Scotland we can naturally grow salmon to harvest size within 12 months at sea."
"We do expect this to improve our ESG (environmental, social and governance) criteria going forward, with increased fallowing, increased harvest volume, reduced time at sea, and reduced treatment intervention because of the shorter farming cycle."
Aquaculture Stewardship Council
Mowi's commitment to certifying production units to a standard recognised by the Global Seafood Sustainability Initiative, shows determination to provide consumers with the best choice of responsibly-raised seafood.
Mowi was the first company in the United Kingdom to achieve Aquaculture Stewardship Council (ASC) certification, and continues with an aggressive plan to satisfy market demand for ASC certified salmon.
Speaking about the ASC certification, Sam Clegg, Certification Manager at Mowi Scotland, said: "Our dedication and diligence over the last two years is paying off and we have worked incredibly hard to embed ASC principles into everything we do as a business. The ASC Salmon & Trout standards are recognised as the highest level in environmental and social audits for global aquaculture. We are now poised to attain ASC certification at all viable sites and, based on biomass requirements, we are aiming to increase our total certified sites to 27 by the end of 2022."
Serving it up
In March 2021, Mowi announced its MOWI brand launch in Sainsbury's stores across the UK, with other key retailers including Amazon Fresh added later in the year.
Supported by a marketing campaign that spans television, social media and print, the MOWI brand looks to capitalise on the increasing desire for chilled fish at in-home dining occasions, as well as the continued demand for healthy products in the wake of Covid-19.
James Cowan, Head of Sales for Mowi Consumer Products UK said: "We are investing in MOWI to play a dynamic role, inspiring new consumers to eat salmon on new occasions and to inform consumers that not all salmon are equal.
"Mowi salmon is high in Omega-3, and fresher than fresh for taste. Retailers who support the Mowi brand will inevitably benefit from a halo of the brand driving traffic to stores."
Reporting on results after just twelve weeks post launch, purchasing data revealed over 53% of MOWI sales had been incremental to Sainsbury's. Further analysis showed that 6% of sales came from new shoppers to the store, 18% of sales were generated by new shoppers to the chiller and 29% of sales were incremental through an additional MOWI pack being added to the basket. Over 36% of sales were from repeat customers showing great satisfaction with MOWI products once tried.
James Cowan added: "The MOWI launch has supported its key retail partner and it's encouraging to see these results after such a short time. Our brand tracking survey shows that 47% of Sainsbury's shoppers would seriously consider buying MOWI so there is more to come."
The Results
Seafood Stewardship Index
The World Benchmarking Alliance's (WBA) Seafood Stewardship Index has again ranked Mowi second in the world, with best performance noted in the ecosystem measurement category. The achievement was largely due to the fact that 100% of the company's salmon farming operations have received third-party certification. Mowi were also found to have leading practices on animal welfare, medicine use and the sustainable use of soya in feed.
World's Most Sustainable Protein Producer
Mowi has been ranked as the world's most sustainable protein producer for the third year in a row by the FAIRR Coller Initiative.
Coller FAIRR Protein Producer Index assesses the world's 60 largest publicly-listed animal protein producers, worth a combined USD 338 billion. Firms are ranked against ten environmental, social and governance (ESG)-related criteria including GHG emissions, deforestation, antibiotic usage and working conditions.
Commenting on this achievement, Mowi CEO Ivan Vindheim said: "The fact that Mowi is ranked as number one yet again is a testament to the vision of our leadership team and the commitment of everybody at Mowi to execute this vision."