Grieg CEO hails record year for company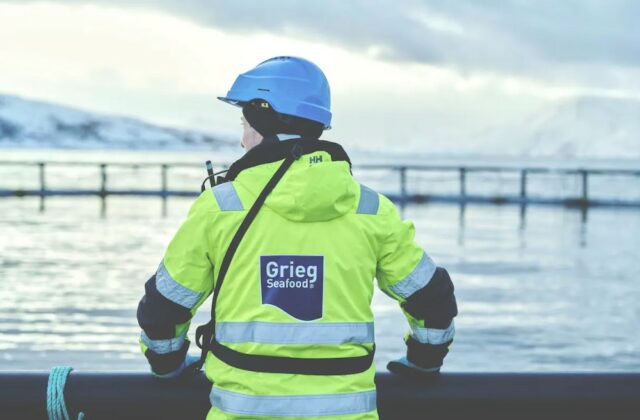 Grieg Seafood CEO Andreas Kvame has spoken of an historic year for the company in his 2022 annual report, published today.
In February, the company reported an operational profit or EBIT of NOK 1,739 million (£142m) for last year against NOK 442m (£36m) in 2021.
Thanking staff for their hard work, Kvame said: "In our 30 years, we have never achieved a higher operational EBIT, seen a stronger market or harvested higher volumes in our existing farming regions.
"In recent years, Grieg Seafood has reached several of our strategic milestones, with the aim of reshaping the company for future value creation.
"In 2020 and 2021, we repositioned Grieg Seafood to the geographies where we see the largest potential for sustainable growth: we sold our Shetland operations, and established a new production region in Newfoundland in Eastern Canada to complement our operations in Western Canada.
"In 2022, we transferred the first fish to sea farms in Newfoundland, and we plan to harvest the first fish during the autumn of 2023."
He said the move will allow Grieg to serve the booming North American market with locally farmed salmon from both Canadian coasts, without relying on expensive and carbon intensive air freight.
"Similarly, we are positioned as a reliable supplier to the strong European market from our Northern and Southern production regions in Norway.
"Demand for salmon has soared since the Covid-19 pandemic ended, and the outlook seems bright, despite a more challenging economic situation in many countries."
Kvame continued: "We see positive effects of having our own in-house sales organization, which enables production and sales to work in a more integrated fashion and increase the value created from our fish. Biology remains challenging in our production regions.
"We are working on measures on many levels to improve biological control. We are particularly focusing on measures to improve fish health and welfare. We have also invested heavily in post-smolt and digital tools to enable more preventative farming practices.
"During 2022, our belief in "post-smolt" production, a technology that enable us to shorten the time our fish spend in the ocean, has been strengthened."­
He said Grieg would continue to invest, adding that the proposed new salmon tax presented a problem in Norway.
He concluded: "We hope the country's parliament will amend the proposal and ensure that we will still be able to develop the industry in local communities along the Norwegian coast also in the future.
"In BC, we have welcomed the 'transition' of the salmon farming sector. In this process, the Government is working with the industry, First Nations and other stakeholders to improve the sector's performance, with a particular focus on reducing interactions with wild salmon."
The Grieg board has approved a 2022 dividend of NOK 4.40 (£0.34) per share.