Gill health weakens Grieg Shetland Q3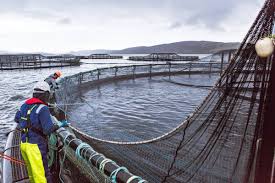 GRIEG Seafood has reported weakened third quarter earnings in both its Shetland and British Columbian operations.
An increase in gill related diseases in Shetland and recurring incidents of harmful algal bloom in BC have resulted in reduced survival rate and higher costs, leading to a NOK 50 million write-down in Q3.
The company said Norwegian operations had performed better than expected during the quarter, however.
Biological performance in both Finnmark and Rogaland were good, and costs continued to decline.
In addition, GSF Finnmark acquired two new locations in Q3, improving capacity utilisation in the area. Quarterly earnings in Rogaland are low due to planned low harvest volumes.
Preliminary figures for the third quarter 2018 indicate a total harvest volume for Grieg Seafood of 16 940 tonnes and a group EBIT per kilo of NOK 9.43.
In Shetland, Grieg harvested 4,511 tonnes in the period, compared to 4,391 in Q3 2017, but EBIT/kg was down to NOK -1.21 against NOK 6.03 last year.
In BC, 2,642 were harvested compared to 2,350 in Q3 last year, and EBIT/kg dropped from NOK 14.18 to NOK 4.55.
Overall, Grieg Seafood's harvested volumes in the quarter were 16,940 tonnes, up from 16,875 tonnes in the corresponding period last year. But EBIT/kg fell to NOK 9.43 from NOK 13.59.