Gigante Salmon's land-based farm set to start production in September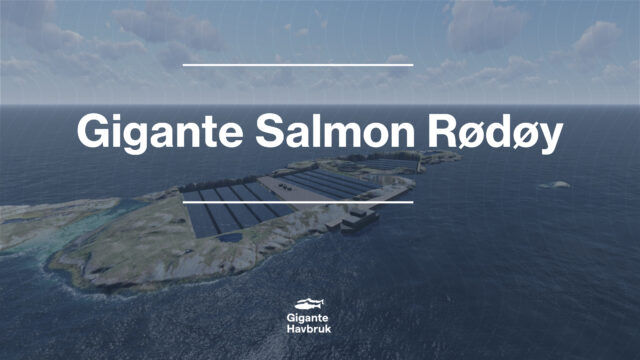 The land based fish farmer Gigante Salmon has revealed that it will be ready to start production by September this year.
The company was in upbeat mood as it presented its 2022 fourth quarter results to the Oslo Stock Exchange, indicating that its progress plan for this significant event is firmly on track.
Gigante's first production facility is under construction on the island of Lille Indre Rosøya in Rødøy, Norway.
CEO Helge EW Albertsen declared: "The project is proceeding according to plan, and we expect production to begin in September. Our plans call for only production basin 3 to be ready when the facility comes on-line this autumn.
"Excavation of production basins 1 and 2 is due to be completed by this time, as will much of the facility's infrastructure (fleet, sludge plant etc).
"Establishing one production basin first will help us make technological choices and be aware of their associated costs in advance of completion of the remaining production basins in the summer of 2024."
Gigante Salmon says it is in a strong financial position, with long-term financing granted for both the development and operational phases, including a working capital for building up biomass of NOK 140 million (£11.5m).
"We are satisfied that the investment and progress in Gigante Salmon Rødøy is going according to plan, and we are looking forward to the first release of smolt in September," said chief financial officer Rune Johansen.
Highlights from Q4 2022 include:
Groundwork has been ongoing throughout the period, and is now complete for production pool 3. Blasting work for the entire plant will be completed during February 2023.
Purchases completed and agreements entered into: Skretting, Xylem, Infrakon.
Application process for the establishment of a small sea fill for the placement of risers west of Lille Indre Rosøy.
Gigante's smolt partner Grytåga Settefisk AS has started production of the first fish to be released in the facility.
Contracts entered into so far in 2023: Lovund Bedrifts Service for the delivery of concrete. Nordkontakt and Elektro for a total solution for electricity, automation, instrumentation, ICT/telecommunications and power distribution.