Giant platform receives first salmon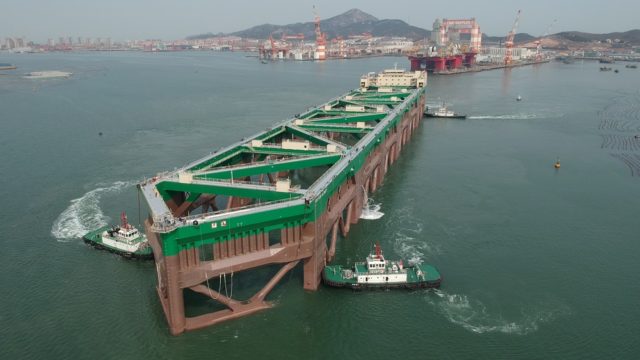 Just six week after completing its epic 15,000 mile voyage from China to Norway, the first salmon has been released into HavFarm1, the giant Nordlaks fish farming platform.
Nordlaks said preparations for receiving the fish had gone according to plan. Spokesman Captain André Grøtta said:
'Until now, it has been a hectic period with a lot of personnel on board preparing for completion. We have given priority to getting the fish in, and we are on track to finish the release by September'.
The salmon that has so far been released into HavFarm1, also called Jostein Albert after a former Nordlaks chairman, were moved from 100 metre cages at a nursery at Grøtøya and weigh an average of two kilos. Good weather and calm seas helped to make it a smooth operation. Capt Grøtta added:
'So far, the fish have been moved into two of the six units on Havfram1. There are now about 20 people working on board, and there will be extra service people on board for some time to come. There is still a lot of work left before the vessel is completely ready and we have put all the fish in place, but now we are approaching more and more a normal operating situation'.
Trude Lind, head of the Nordlaks operations centre, said the fish had responded well to feeding with every indication they would thrive. The platform also gave them a lot more room to move around. The aim is to move around 2.3 million salmon onto the platform over the next month, with the fist harvest taking place around New Year.