Fresh salmon prices hit record high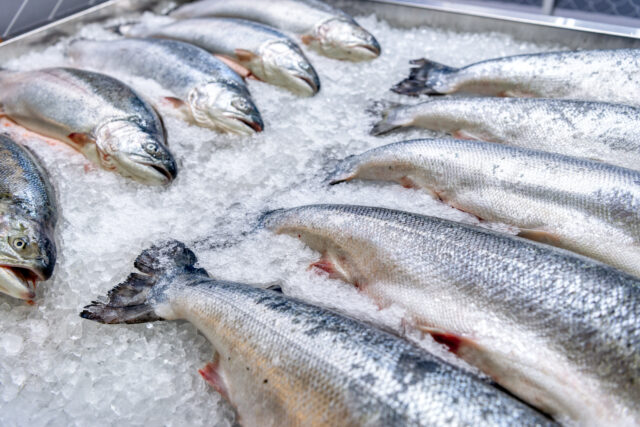 The export price of Norwegian fresh salmon hit a record high last week, the latest official figures show today.
They rose by 9% to NOK 112.46 per kilo (£9.03) in week 8, says Statistics Norway which monitors prices on a weekly basis.
This is NOK 4 per kilo more than the previous all-time high of NOK 108.21 per kilo (£8.67) in May last year.
Industry insiders say this new record is almost certainly an underestimate, with actual figures of NOK 120 a kilo (£9.63) and more being reported for larger fish in some areas.
There is speculation prices may yet have still further climb, following reports that the salmon biomass in Norway continues to fall. The standing biomass in Norway at the end of January was 822,062 tonnes, almost 20,000 tonnes – or 2.4% – lower than at the same month last year. Lower output from Scottish salmon farms due to various biological issues is also thought to be keeping prices high.
There is also debate as to how much the market can take because the current levels will eventually be reflected at the retail end and in what the consumer is prepared to pay.
A total of 14,905 tonnes of fresh salmon was exported last week, slightly up on the figure seven days earlier.
Frozen salmon prices remain relatively stable coming out at NOK 89.30 a kilo (£7.17) , slightly down on the previous week, but the export volume rose by 239 tonnes to 654 tonnes.
The Statistics Norway figures also include fish sold under contract.