Fish Update Briefing, Friday, January 4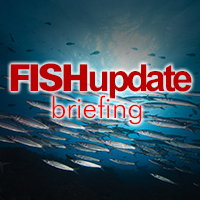 10 MILLION KRONER BONUS FOR SALMON STAFF
AROUND 100 staff at a Norwegian salmon farming company received a surprise gift this Christmas of 10 million kroner (£912,000) as a bonus to share between them. The company, Ellingsen Seafood, based on the fjord leading to the port of Narvik 70 miles away, said 2018 had been a very good year for the family owned business, adding that the employees had worked hard and deserved their reward. It is not known how the money will be divided up, but if it is shared equally, each staff member should receive around NOK 100,000 – or £9,000.
BOY DIES FROM SUSPECTED FISH REACTION
AN 11-year-old boy has died from a suspected allergic reaction at his home in New York after smelling fish being cooked. Police say the boy's father was preparing a cod meal when his son, Camron Jean-Pierre, began to lose consciousness. The family called the emergency services but he was pronounced dead on arrival. A post mortem will be held to establish the exact cause of death, but police said the smell of fish being cooked may well have triggered a reaction. Fish is one of eight major food allergies, alongside others such as dairy products, eggs and wheat.
WAITROSE ISSUES FISH FINGERS RECALL
THE upmarket retailer Waitrose issued a recall of one of its top selling seafood products over the Christmas and New Year holiday following a safety alert from the UK Food Standards Agency. The company put out the warning about its packets of 6 Chunky Battered Fish Fingers because some were found to contain large fish bones which could pose a potential injury risk to consumers. The company displayed point-of-sale notices in all retail stores that sold the product, explaining why the product was being recalled. The fish fingers are thought to have been produced at a plant a few miles from Grimsby. The supermarket said it was urging customers to not eat the fish fingers and to return the item to receive a full refund.
FISH DIVERS TOLD NOT TO BE GREEDY
FISHERY officers in New Zealand have urged would-be fishermen who make a living diving to catch seafood not to be greedy. Fisheries New Zealand has issued a warning saying: 'Don't go over your limit.' It is summer in New Zealand, when diving for fish is at its peak, but the country has strict regulations to ensure stocks are not depleted. Fisheries officer Richard Ratapu said that at this time of year there was a temptation for fishermen to push the limits by catching more than they should or by bringing up undersized fish.