Fish Update Briefing, Friday, January 11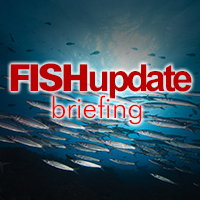 NOW 'FISH' FINGERS GO VEGAN
THE UK retailer Waitrose is launching its own brand of vegan 'fishless' fingers to meet the growing demand for vegan products. They are said to have a subtle fish taste and are made from tofu, with a crispy coating. The supermarket chain says it is also suitable for making a classic fish finger style sandwich by using its own brand of vegan tartare sauce and sourdough bread. Chloe Graves, chilled vegan and vegetarian buyer at Waitrose, said that after the successful launch of new vegetarian and vegan products before Christmas it was now looking to see what other interesting dishes could be added to the range. In a further nod to the vegan market, Sainsbury's has launched vegan smoked 'salmon', The Grocer reported. Made in Taiwan, the product uses Konjac powder – which has a 'fishy' smell – along with pea and potato starch.
GRIMSBY GETS NEW ICELANDIC CONSUL
GRIMSBY, the largest buyer of Icelandic cod and haddock in Britain, now has a new honorary Icelandic Consul. He is Jonathan Goolden, a partner in the large Grimsby based legal firm of Wilkin Chapman. His appointment was recently approved by Iceland's foreign minister, Gudlaungur Thor Thordarson. Part of his role will be to support the Icelandic community in the area and to promote trade and cultural links, which stretch back for hundreds of years. He said he is now looking forward to further cementing the close business relationships between Grimsby and Iceland, with a focus on the very solid fisheries and shipping links. He is also keen to raise awareness of the less obvious connections, while supporting the Icelandic community that has made the Humber its home.
FISH FRAUD RAMPANT IN NEW YORK STATE
SEAFOOD fraud is widespread across New York State, according to the state's office of Attorney General, which has recently completed a two-year long survey investigating mislabelling. Key findings included that more than one in four seafood purchases with an identifiable barcode was mislabelled. About two-thirds of the supermarket brands reviewed had at least one instance of suspected mislabelling. And while mislabelling affected virtually every tested seafood category, there was rampant fraud of certain species such as lemon sole, red snapper and farmed salmon being passed off as wild salmon.
MOUNTAIN RIVER FISH 'POSES CANCER RISK'
RESEARCHERS at the University of Maine have found that children in Alaska who consume a lot of fish from rivers fed by the Eastern Alaska Mountain Range may be at an increased risk of cancer. The study, which was conducted by Kimberley Miner, at the university's Climate Change Institute, believes the higher risk is probably the result of the accumulation of insecticides such as DDT in the melt water from glaciers. Apparently, children are more at risk from the intake of organochlorine pollutants (OCPs) than adults because of their size and lifetime exposure. The full findings have recently been published in the Journal of Exposure Science and Environmental Epidemiology.