Fish Update Briefing, Friday, August 24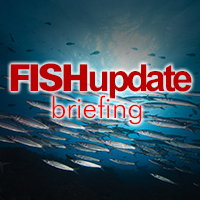 NORWAY'S NEW 'SEAFOOD' MINISTER
NORWAY'S new fisheries minister, Harald Tom Nesvik, said he wants people to call him the Minister of Seafood. He took over two weeks ago following the resignation of Per Sandberg over a controversial holiday in Iran. Nesvik believes his title should be changed because seafood is the country's most important regional industry. He said he has been given a 'dream job' by Prime Minister Erna Solberg. Nesvik praised Sandberg's record as minister but said he had some ideas of his own.
OLYMPIA REVAMP TO INCLUDE FISH
A SEAFOOD specialist called Claw is to be a major occupant of a large rooftop bar and street food hub at Olympia in London, which is undergoing a £700 million overhaul. The 500-capacity centre, Pergola Olympia, is the latest from the Incipio Group, which is behind other Pergola sites as well as Feast Bar and Kitchen, Feast Canteen and the Prince in West Brompton. Claw, as the name implies, deals largely in shellfish and it will be competing alongside burgers, pizzas and bakery products. There are also plans for two hotels, a theatre and a cinema on the site.
TOKYO CALLS HALT TO FISH MARKET VISITORS
TOKYO'S renowned fish market is about to stop receiving visitors for the first time in more than 75 years as it prepares to move to a new location in early October. Tsukiji is the world's largest fish market and its daily tuna auction is a highly popular tourist attraction in an area packed with restaurants and shops. Many people arrive two or three hours before the market opens for business at 5.30am. The market will move east of the Japanese capital to Toyosu, the site of a former gas plant.
ILLEGAL LOBSTERS SEIZED
INSPECTORS with Canada's Federal Department of Fisheries and Oceans have seized more than $50,000 worth of lobster from a seafood distributor in New Edinburgh, Nova Scotia. The department said fishery officers inspected the fish distribution facility and confiscated more than 100 crates of the shellfish. The lobsters were seized based on the belief that they were purchased and sold without authorisation, in violation of the fisheries general regulations. The name of the business has so far not been revealed.