Fish farmers hope for success at the Lantra awards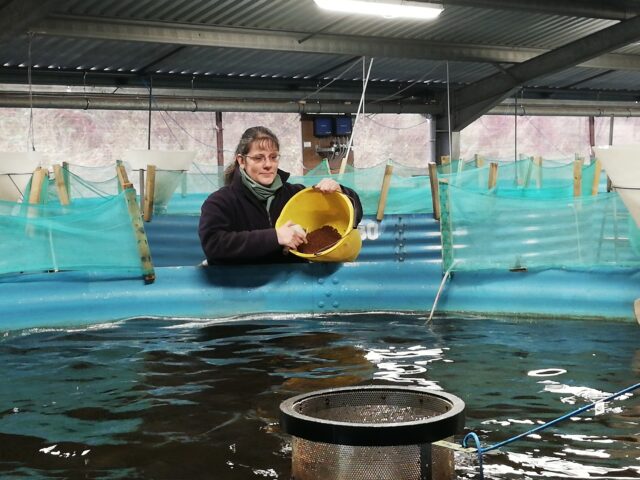 Three aquaculture trainees are among the shortlisted contenders for this year's Awards for Land-based and Aquaculture Skills, organised by rural skills body Lantra Scotland.
The three are Emily Underhill, a Freshwater Fish Health Biologist with Scottish Sea Farms; Derek Ferguson, who is on a Technical Apprenticeship in Aquaculture Management with Grieg Seafood; and Emmanuelle Rey, who has completed a Modern Apprenticeship in Aquaculture at Dawnfresh Farming.
Lantra Scotland is the sector skills council for land-based, aquaculture and environmental conservation industries. The awards (the ALBAS) recognise excellence in individuals learning agricultural and aquacultural skills and the winners will be announced at gala dinner and award ceremony on Thursday 3 March at the Dunblane Hydro Hotel.
All three shortlisted aquaculture specialists studied with Shetland UHI. Emily Underhill, from Oban, who completed a Modern Apprenticeship in Aquaculture, said: ""I have been privileged to have had the opportunity to collaborate over the past two-and-a-half years with many talented people in their field, particularly within fish health. Every one of them has influenced me in my career."
Derek Ferguson, from Shetland, is currently doing a Technical Apprenticeship in Aquaculture Management. He said: "My current role involves ensuring the optimal husbandry of all stock on site, looking after the health and welfare of staff and resolving any problems relating to fish health. It's very rewarding helping train colleagues and I take great satisfaction in maintaining the health of the fish stock."
Emmanuelle Rey from Glendevon, Dollar, has completed a Modern Apprenticeship in Aquaculture. She said: "As soon as I learnt about careers in aquaculture, I wanted to do nothing else. In a hatchery there is so much variation from one day to the next, and it always keeps you interested."
Industry categories at the awards cover agriculture, aquaculture, equine, environmental conservation, game and wildlife, horticulture, land-based engineering and trees and timber.
As well as prizes for Overall Winner, Runner-up and Modern Apprentice of the Year, there are also prizes for Higher Education, School Pupil and Secondary Schools, CARAS (Council for Awards of Agricultural Societies), Jean's Jam for inspirational tutor, the Tam Tod Trophy for outstanding young learner, and the Anna Murray Award for Partnership Working.
The finalists for ALBAS 2022 were chosen by an independent judging panel made up of influential figures from across the land-based and aquaculture sector, chaired by Keith Paterson of Forestry and Land Scotland.