Fish farm protest staged at Grimsby football match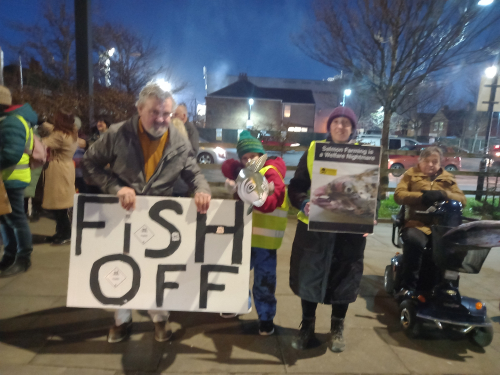 Anti-salmon farm campaigners used Grimsby Town FC's League Two match against Newport County earlier this week to stage a large protest against plans for a new land-based fish farm in the town.
The club is in the quarter finals of the FA Cup for the first time since before the Second World War after beating Premier League team Southampton, so the game attracted a larger than usual crowd.
The club ground (which is physically in the neighbouring seaside resort of Cleethorpes) is only a few hundred yards from where Aquacultured Seafood plans to build the new facility.
The London-based company submitted a screening application to the local authority late last year as part of the first stage in seeking permission to build a 5,000 tonne RAS salmon grow-out facility, to include a processing factory, on former dockside railway sidings.
It will occupy 40,000 square metres close to many of Grimsby's cold stores and seafood factories. Aquacultured Seafood said it will feature the latest cutting edge technology, including a RAS (recirculating aquaculture systems) filtration system from Israeli company AquaMaof.
The farm will be the first of its type in the UK and create more than 100 jobs.
The football match demonstration had the backing of long time anti-fish farm campaigner Don Staniford, but most of the protestors were people living near the site.
Staniford described the proposed farm as "a concentration camp for millions of fish" while some local residents were worried about possible smells from the site.
However, overall public opinion appears to be in favour with many saying the development could help revive the economic fortunes of the town's seafood industry by attracting further similar investment.