Fire badly damages Mowi's new smolt plant in Iceland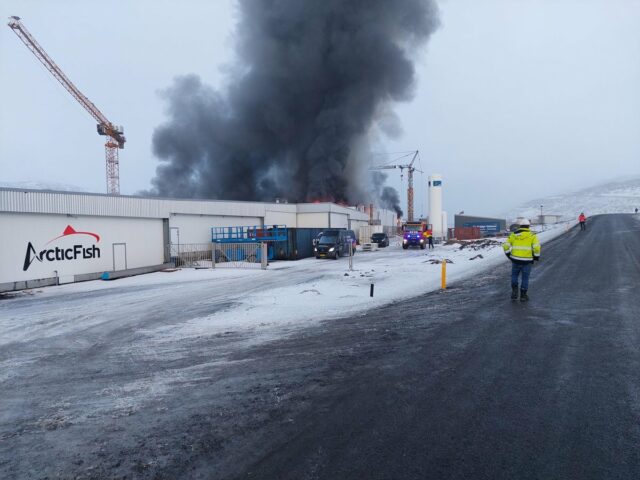 Fire has badly damaged an Arctic Fish smolt facility still under construction at Tálknafjördur in the Westfjords region of Iceland yesterday.
Company officials are today trying to assess the extent of the impact, which it is thought will be quite extensive.
The fire broke out shortly after 9am yesterday, sending clouds of black smoke high into the sky. It took several hours to be brought under control.
Two people were taken to hospital suffering minor effects but were later released after treatment.
Arctic Fish is one of Iceland's main salmon farming companies and is now 51% owned by Mowi which bought its share of the business from SalMar late last year.
Local media reports said the response teams acted swiftly, evacuating the area and ensuring it spread to nearby houses.
The fire was mainly confined to a large cistern but there were also two gas cylinders in the building which prevented entry during the early stages of the firefighting operation.
Arctic Fish business development manager Daniel Jakobsson told the national broadcaster RUV that the company was grateful there were no serious injuries and that the fire did not spread to neighbouring houses.
He said the company was still trying to assess the cost of the damage, but fortunately most of the expensive equipment had yet to be installed.
The new facility is being built at a cost of around four billion Icelandic kroner (£23m).
Arctic Fish will have access to existing smolt supply so the production targets for this year and 2024 should not be affected.