Ex SalMar chief joins new offshore project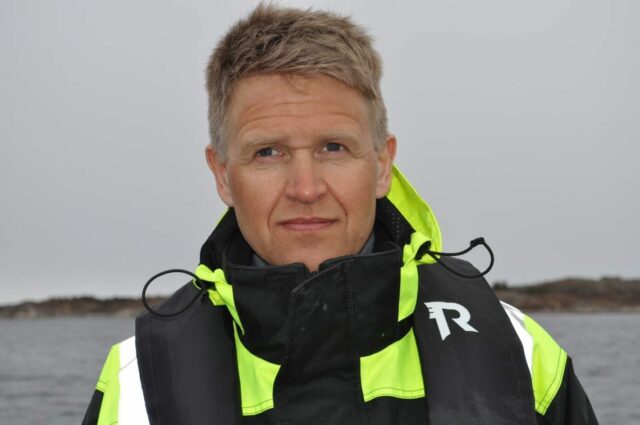 A former top SalMar executive has been recruited by Lovundlaks, a medium sized Norwegian salmon company to help expand its offshore farming plans.
With a licence to produce up to 8,000 tonnes of biomass a year, Lovundlaks is a relatively modest salmon industry player. But it set up a new business last year known as Utror to develop this ambitious project.
Offshore aquaculture is widely thought to be the next big leap forward in salmon breeding. Only last month the Norwegian government named three areas of coastline where development can take place.
Now Utror has brought in 46-year-old Olav-Andreas Ervik (pictured) who was at one time managing director of SalMar and more recently managing director of its new joint venture, SalMar Aker Ocean, which has huge global offshore plans of its own.
He resigned that post last November, citing family reasons for the decision.
Ervik has 25 years experience in the aquaculture business, working for, among others, Scottish Sea Farms and Lerøy. In fact he has been central to SalMar's Ocean Farm offshore project for some time.
Lovundlaks said last year that it had carried out extensive studies, including working with a design and technology supplier, and found that Helgeland, the most southern area of Norway where it operates, provided natural conditions for open water salmon farming.
Ervik, who starts his new job on October 3rd, said: "The principal owner (of Utror) Lovundlaks is a company steeped in tradition with a very strong and sharp operational focus, which has produced – and continues to produce – good results.
"This focus is very important for success at sea, and is something I also place high on my agenda when new ways of operating are to be developed."
He added: "I feel that we have very similar goals, values, and not least ambitions for the aquaculture industry. With this as a starting point, I am very much looking forward to embarking on new and exciting tasks in the autumn, and to developing a venture based in Nordland together with the rest of the team in Utror."