Detection reaches new limits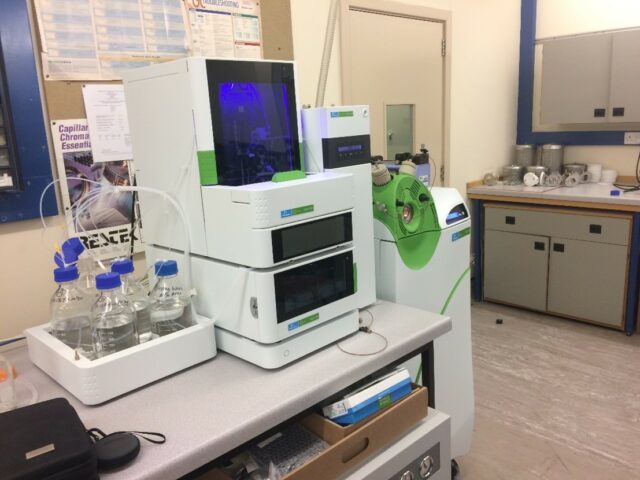 Tighter rules on pesticide levels will require more sensitive testing technology
James Hutton Limited is delighted to announce it is in the latest stages of launching a brand-new service to help fish farmers with the upcoming changes to Maximum Acceptable Concentration (MAC). These changes require analysis for Emamectin Benzoate (EMB) pesticide in marine water and sediments up to 1,000 times lower than current levels.
The active ingredient in SLICE®, Emamectin Benzoate is used to control sea lice – a major problem in aquaculture. The team at James Hutton Limited are experienced in this sector and have been carrying out Emamectin Benzoate analysis to the detection limits previously required for more than 15 years.
The organisation is now adapting its technology to meet the new legislative requirements using liquid chromatography triple quadrupole tandem mass spectrometry (LC-QqQ MS/MS).
The methodology is expected to be approved by the Scottish Environment Protection Agency (SEPA) and accredited by UKAS, the National Accreditation Body for the UK, in the near future. Now is the time to learn more about the services and how they can help you.
Four key benefits using James Hutton Limited: 
• Analysis is carried out by world-class scientists from the renowned James Hutton Institute.
• They use sophisticated analytical instruments to complete the analysis.
• They can reach the new detection limits that are extremely difficult to achieve.
• It'll ultimately allow your fish farm to keep operating!
For more information, please reach out to Rodger McGovern, Business Development Manager in Analytical Services: email
rodger.mcgovern@huttonltd.com
or visit www.huttonltd.com
James Hutton Limited will be attending Aquaculture UK in Aviemore (3-5 May 2022).