Coronavirus impact on seafood sector 'massive'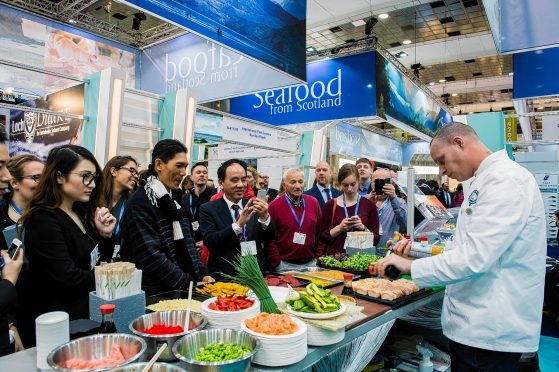 THE coronavirus outbreak has had a 'massive' impact on the Scottish seafood industry for all species, but the domestic market for salmon remains strong.
With the travel bans to the US in place, Asian markets still reeling, and a Europe wide lockdown, sales of seafood overseas have been hit hard.
According to the Scottish Salmon Producers Organisation (SSPO), there has been a significant reduction in exports of salmon – the UK's biggest food export.
Last year, salmon exports were worth a record £618 million, with France the largest market, followed by the US and then China.
Hamish Macdonell, director of Strategic Engagement at the SSPO, said today: 'Measures to mitigate the impact of the crisis are being taken by all of our farmers, with the health and welfare of employees being of paramount importance, so they can continue to offer the best care for their fish.
'As is the case with the whole Scottish food and drink sector, Scottish salmon farmers are working hard with the supply chain to help keep supplies moving, minimise disruption and to continue to provide people with healthy, fresh produce.
'As part of the contingency measures now in place, we are in regular contact with ministers in the UK and Scottish governments, and with regulators, to ensure the sector is able to maintain the continuity of supply of fresh salmon to consumers at home and abroad.'
The silver lining, for now, is that demand in the UK retail market is particularly strong, said the SSPO, with many consumers choosing to buy fresh produce, like Scottish salmon, which can be frozen at home.
Sales of all seafood to Europe, though, have been rocked as restrictions on eating out are being enforced on the continent.
A big market for Scottish seafood overseas is in food service and with various countries in Europe now in lockdown and banning trips to bars and restaurants, companies have seen a decline in orders, said Seafood Scotland's Natalie Bell, head of trade marketing Asia, Europe & Middle East.
Some companies have experienced a decline in UK sales but most companies have had drops in European and Asian sales.
Family businesses with 20 employees will cope differently from companies with 90 employees, said Bell.
'In Asia – in particular in Japan, China and Hong Kong – people aren't eating out. The general consensus is it is having a massive effect, markets are being lost because there is a reduction in demand. If people aren't eating out, the buyers aren't placing the orders.'
And while British supermarkets are doing brisk business, the concern going forward is that people are not going to be able to afford seafood if they lose their jobs.
On a brighter note in the domestic market, any difficulty in obtaining Norwegian imports could benefit Scottish suppliers, as stores increasingly buy local.
In logistical terms, Bell said air freight to the Middle East has been less disrupted than on other routes because flights from Scotland to Dubai are still operating, with that region relatively unaffected by Covid-19 at present.
Meanwhile, hauliers have reported lengthy delays in transporting salmon across Europe, although the main entry point at Boulogne-sur-Mer remains open.
A spokesman for DFDS in Larkhall, the transport hub from where most Scottish farmed salmon is distributed, said routes to Europe remained open for food supplies, but there were long delays at the borders.
Salmon is still being despatched by lorries from DFDS to Boulogne-sur-Mer in France, although in smaller volumes.
'But there are big queues at the borders – Italian, German, Austrian, Spanish,' said the spokesman. 'There is about a 40km queue in some places.'
That is likely to get worse, with more borders being closed, and 'the time it takes for them to check the drivers' temperature'. UK delivery points are carrying out similar health checks.
'That is the same as supermarkets and drivers on site here –before they come into work they get their temperature checked and if it's high they are told to go home,' the spokesman added.
But at the DFDS depot there have been no problems to date with staff sickness as a result of the coronavirus.