Campaigners bring fresh abuse claims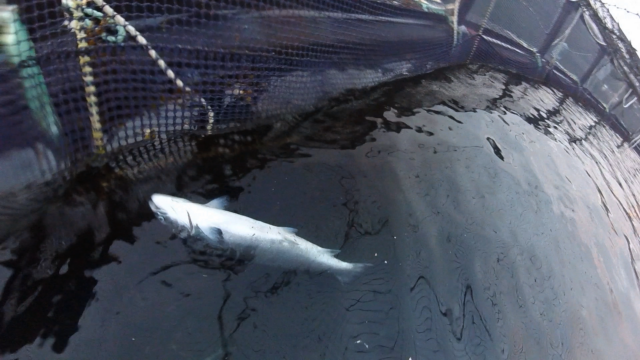 Animal welfare campaigners have lodged a welfare complaint against salmon and steelhead trout farmers in Scotland, following the publication of more secretly filmed video footage. The farm operators concerned have hit back, arguing that the images do not reflect standards of welfare at the farms.
The allegations concern sites run, respectively, by The Scottish Salmon Company (SSC) and Kames Fish Farming on the west coast of Scotland. The covertly filmed videos appear to show dead or damaged salmon and trout, with sea lice clearly visible in some of the images.
The pictures have been jointly published by Scottish Salmon Watch, the campaigning organisation set up by anti-fish farming activist Don Staniford, and charity Animal Concern, which Staniford has recently joined.
The filming allegedly took place at SSC's West Strome site in Loch Carron and the Kames Fish Farming site at Shuna Castle in the Sound of Jura, earlier this month.
Scottish Salmon Watch said it has filed welfare complaints against Kames and SSC with Police Scotland's Wildlife Crime Unit, Marine Scotland's Fish Health Inspectorate and the Animal & Plant Health Agency (APHA) for breaches of the Animal Health & Welfare (Scotland) Act 2006 (Section 19: "Unnecessary suffering" and Section 24: "Ensuring welfare of animals").
The APHA, which is responsible for regulating animal welfare in farming, would not confirm or deny details of any complaint, but told Fish Farmer: "We take breaches of animal welfare legislation very seriously and investigate every allegation that is reported to us.  We will always take appropriate action where welfare regulations are breached."
Previous complaints brought recently by Scottish Salmon Watch against fish farms were investigated, separately, by APHA and RSPCA Assured, but not upheld.
SSC said the mortalities were atypical and related to recent weather conditions. A spokesperson for the company said "Fish health and welfare is fundamental to responsible salmon farming.
"Operating in the natural environment brings unique biological challenges, some of which have been exacerbated by the current exceptional warmer water temperatures and lack of rain.
"These conditions have caused a sudden and unforeseeable environmental bloom of jellyfish and plankton, and an escalation in sea lice settlement at one of our sites. These environmental factors damaged the gills of our fish, compromising their overall health and their vulnerability to operational handling.
"Unfortunately, there were a number of fish mortalities and they have been disposed of responsibly in line with current regulations."
SSC stressed that "swift action" was taken and "significant resources" deployed to protect the fish, adding: "We acted in accordance with responsible farming practices and remain committed to the stringent health management of our fish."
A spokesperson for Kames said: "We are proud of our record on fish health and welfare in all Kames Fish Farming Ltd operations and can confirm that all our sites, including Shuna Castle, are routinely (and very recently) inspected and audited by accreditation bodies such as RSPCA and also regulatory bodies such as Marine Scotland amongst others. Neither of these are reporting any issues or concerns as we maintain our focus on quality and sustainable production of our steelhead trout.
"Like any livestock farm… selective filming will inevitably pick up isolated and thankfully rare examples of poorly doing animals. The recent footage featured by Staniford is out of context and not worthy of discussion."