Calysta's feed-from-gas venture raises $39m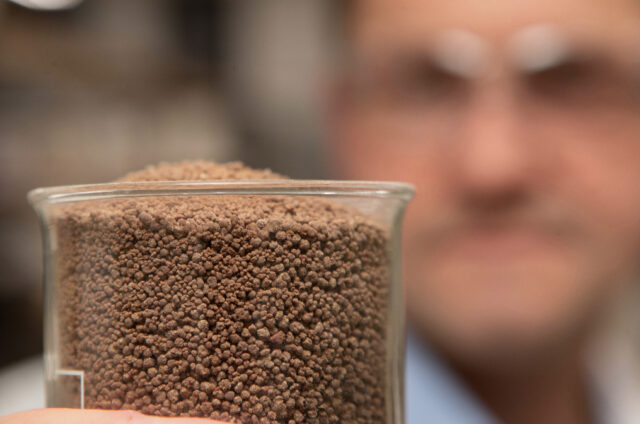 Energy giant BP is backing an alternative feed producer that hopes it can replace fishmeal with aquafeed grown using natural methane gas.
The high tech capital arm of BP, bp ventures, is the lead investor in a $39m (£28.1m) funding round for Calysta Inc, the developer of FeedKind, a protein-based livestock and aquafeed grown using microbes that feed on methane.
The cash injection will support scoping and pre development of the company's next manufacturing site, outside Asia. Calysta is currently working towards completion of the world's first commercial FeedKind production facility in China via Calysseo, Calysta's 50/50 joint venture with feed business Adisseo. It is set to come online late 2022. It also operates an R&D facility in the UK.
Calysseo, Calysta's 50/50 JV with Adisseo, will bring 20,000 tonnes of production capacity online in 2022, with 60,000 tonnes to follow shortly thereafter.
Calysta's technology produces sustainable single-cell protein, which is produced through a proprietary, commercially validated gas fermentation process using naturally occurring, non-genetically modified microbes that use methane as their energy source.
The process uses no arable land or marine resources, and Calysta sees it as an alternative to traditional sources of fishmeal protein that are in danger of being overfished.
Thomas Huot, Calysta's Chief Ooperating Officer, said: "In expanding FeedKind production beyond the current growth strategy in Asia, we are aiming to continue to convert low cost natural gas resources into high-value, environmentally-friendly protein alternatives."
"Global food and protein supply chains have never been more challenged, thanks to increasing land and water scarcity coupled with an ever-growing global population.
"FeedKind makes more from less by utilizing the abundant natural gas resources to produce feed for fish, livestock and pets, reducing the pressure on our oceans and arable land for non-animal feed production."
Announcing the investment, Meghan Sharp, head of bp ventures, said: "We believe Calysta's innovation offers an opportunity to deliver sustainable protein for the planet and supports bp's strategy of creating new markets in which gas can play a material role in delivering a more sustainable future. That's why in 2019 bp ventures invested in Calysta and its FeedKind technology, and today we are excited to build on that investment with an additional $10 million commitment."
Other investors in the funding round include Adisseo, sustainable aquaculture fund AquaSpark and venture debt specialists WTI, as well as Calysta's other existing investors.