Brazilian chefs get a taste of Scotland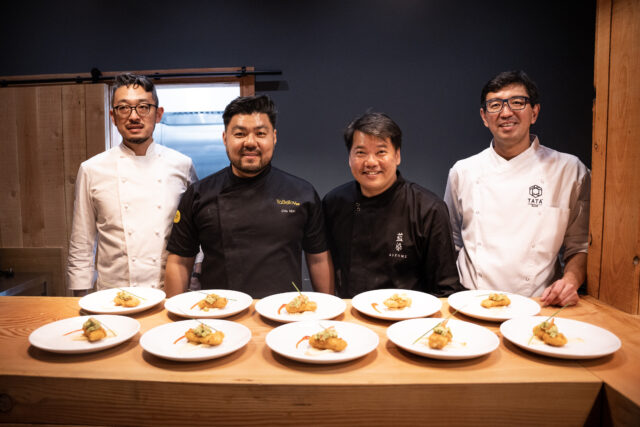 Four top Brazilian sushi chefs have taken part in a trade mission around Scotland designed to promote UK seafood and boost exports to South America.
Regis Sasaki, Marcelo Shiraishi, Luiz Hirata and Cris Mori, all renowned sushi chefs in Brazil, took part in a five-day trade visit to learn about various UK seafood species across Scotland, including salmon, pelagic species including mackerel and herring and whitefish.
Brazil is home to the largest Japanese community outside of Japan. Sushi is extremely popular in Brazil, with São Paolo home to 500 Japanese restaurants, five of which have Michelin stars. Despite Brazil's vast coastlines and rivers, the country lacks cold waters for species such as salmon, cod, haddock, herring, mackerel and others – making it reliant on imports.
The trade mission was organised by the Department for International Trade, in partnership with DEFRA, to promote UK seafood, and encourage the chefs to consider importing fish from the UK.
It was delivered through the UK Government's £1m Seafood Export Package, part of the £100m UK Seafood Fund, which aims to boost seafood exports and promote the industry's high-quality produce overseas.
The chefs' trip, supported by Seafood Scotland, saw them cook with locally produced whisky and gin at Arbikie Distillery, before visiting Peterhead Fish Market to meet with Peter Duncan, Head of Fishing at the Peterhead Port Authority and representatives from Seafood Scotland including Donna Fordyce, the organisation's Chief Executive.
While there they also had a tour of the nearby Denholm Seafoods Processing Factory, before travelling to the West Coast where they met with the owner of Caledonian Oysters and had a tour of Bakkafrost Scotland's salmon farm in Loch Fyne.
In Edinburgh the delegation had a tour around Welch's Fish Market and Fishmongers at the historic Newhaven Harbour, before finishing the trip at Harajaku Kitchen, where they carried out a cooking demonstration with the chefs there.
Minister for Exports, Andrew Bowie said: "We land and produce some of the finest seafood in the world in the north east of Scotland. It's great that we've been able to show what we have to offer on this trade mission and it's no wonder that they were impressed with what they saw.
"Brazil is just one of many markets we're targeting as we seek to do all we can to promote our seafood exports around the world."
One of the chefs on the visit was Marcelo Shiraishi, the President of the Brazilian Association of Japanese Gastronomy and administrative manager of Restaurante Aizomê in São Paulo, which has won several awards for its quality and tradition in oriental cuisine.
Speaking after the visit, Marcelo Shiraishi said: "If I were to define the Scottish market in one word, that word would be quality. That's because we could see, in Peterhead's Fish Market, the high level of requirement regarding the tracking of the ingredients.
"This means that people know exactly where the fish that are consumed came from, how they were fished and in which region they were fished. These are all very relevant information for the final consumer.
"Another thing that caught our attention was the salmon farming – avoiding the use of antibiotics, the cleaning and the care while dealing with the species. These factors are extremely positive."
Regis Sasaki is a Brazilian consultant in gastronomy, and owner of a company specialising in Japanese gastronomy, Shiki Eventos, in addition to running the Japanese restaurant Jappa Boy in São Paulo.
Regis Sasaki commented: "There is so much passion, dedication and high-quality standards in the UK Seafood industry, along with full traceability.
"They have the finest and best quality seafood, which we enjoyed preparing and tasting with our hosts. We hope to be serving some in Brazil soon."