Bold as wrasse? New study aims to find out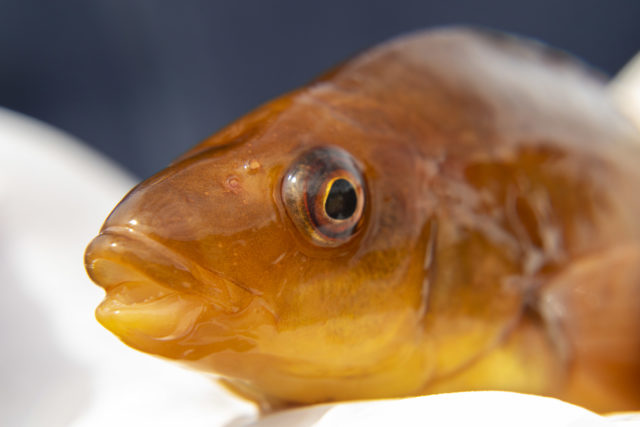 Just like people, Ballan wrasse have different personalities. Now a team of researchers are looking to see how those differences might affect their performance as cleaner fish.
A consortium of partners – comprising the University of Stirling's Institute of Aquaculture, with salmon producers Loch Duart and Otter Ferry Seafish and support from the Sustainable Aquaculture Innovation Centre (SAIC) – will undertake a series of tests to determine whether the boldness of individual Ballan wrasse makes them more adept at picking sea lice parasites from salmon.
The researchers will study Ballan wrasse behaviour by introducing a new object into their tank. Video tracking the individual cleaner fish, they will then monitor the Ballan wrasses' reactions to the object – how quickly they interact with it – and correlate this with how they later perform when they are introduced to salmon pens at sea.
Professor Herve Migaud, of the University of Stirling's Institute of Aquaculture, said: "Ballan wrasse are very special fish – they are very clever and demonstrate fantastic behaviour. If you walk by a tank, they will take an interest in you and physically watch you and follow. They are unique in many ways; each has their own personality and we want to correlate which traits – namely boldness and shyness – translate into Ballan wrasse being reliable and effective at delousing salmon.
"Cleaner fish are reared in hatcheries in controlled conditions and will not have seen salmon or sea lice in their life – but if we can identify the ones that are instinctively bold, we can use these to create breeding stocks that are more naturally suited to the job of being a cleaner fish. Ultimately, the wider project will inform how we create the best possible conditions to promote interaction between salmon and Ballan wrasse to reduce the prevalence of sea lice."
In addition to the personality study, the team will use hydroacoustic tracking, where underwater hydrophones are used to locate the position of tagged fish to understand and compare the behaviour – in terms of both delousing and interaction with salmon – of experienced wild wrasse and those produced in hatcheries. The same technique will be used to understand salmon behaviour by, for example, identifying whether they swim closer to the wrasse and slow down in a bid to encourage them to clean.
This research forms part of a wider "Aquawrasse" study which will also include exploring the optimal conditions for Ballan wrasse to perform their role across a range of variables, including their feed, the set-up and "furniture" in pens, as well as the ratio of salmon to cleaner fish.
Lewis Bennett, Cleaner Fish Manager at Loch Duart, said: "The Aquawrasse project is a great example of an academic study providing key information for industry practical application. The main focus for Loch Duart is to more accurately identify the behavioural traits, movements and annual differences in wrasse behaviour; from this we can then make changes to integral parts of our operations. I am very keen to get started on the project and I am very sure that we shall identify future work towards better understanding of cleaner fish."