Benchmark sees revenues up 25% for H1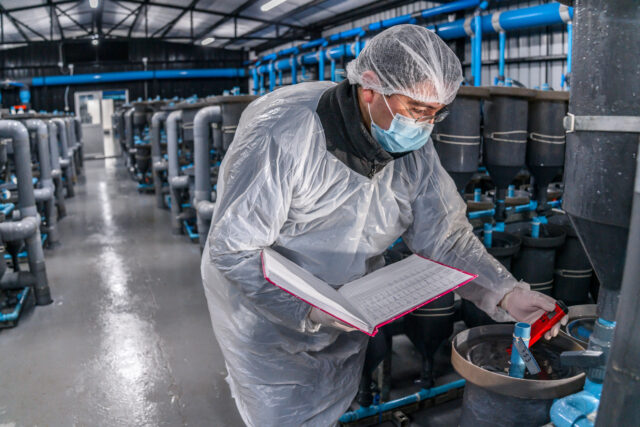 Aquaculture biotech group Benchmark saw its revenues for the six months to 31 March 2023 go up, year on year, by 25% to £98.9m.
The period, the first half of the group's current financial year, also saw a 39% increase in adjusted EBITDA to £22.1m (H1 FY22: £15.9m). Benchmark's financial accounting pre-tax loss was cut to £1.9m (H1 2022: loss of 5.1m. The figures are unaudited.
For the second quarter of Benchmark's 2023 financial year, the company recorded revenues up 13% to £44.4m and adjusted EBITDA up 32% to £11.1m (Q2 FY22: £8.4m).
Benchmark's Genetics arm recorded H1 FY23 Revenues at £34.5m, up 30%. This was driven by higher salmon sales from Norway and Iceland, the company said, with 181m salmon eggs sold (H1 FY22: 134m). Benchmark noted "continued commercial progress" in Chile with new customer wins and an endorsement from the Chilean regulator conferring "disease free compartment status", an important biosecurity endorsement which will enable the company to export salmon eggs from Chile.
The Advanced Nutrition business turned in a strong performance with revenues at £45.3m (up 8%) despite "soft" shrimp markets, while Health, benefiting from the commercial roll-out of the combined Ectosan and CleanTreat lice treatment, recorded revenues of £19.1m, an increase of 78% year on year.
The company said the group was set to meet market expectations for 2023.
Trond Williksen, CEO, commented: "Benchmark had an excellent first half, delivering double digit growth. We continue to focus on achieving profitability and cash generation whilst making good progress towards our medium term objectives; we remain on track to deliver strong growth for the year in line with market expectations.
"Our fundamentals are strong and we have significant opportunities to continue building our track record of consistent growth. Aquaculture is a growth industry, supported by robust megatrends. Benchmark is well positioned to play an important role in helping the aquaculture industry deliver sustainable growth and meet the needs of a rising population."