Benchmark reports continued growth for Q3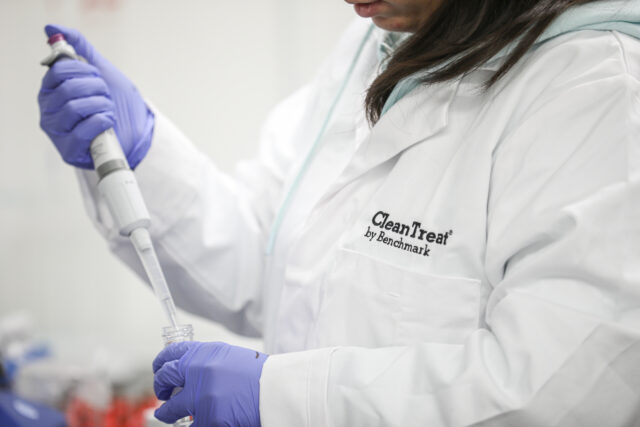 Aquaculture biotechnology group Benchmark Holdings has seen a fifth consecutive quarter of growth in revenue and earnings, thanks partly to the successful roll-out of its CleanTreat sea lice solution.
Benchmark has also underlined its intention to float on the Euronext Growth Oslo stock market in Q4 of the current calendar year, and to uplist to the Oslo Børs in the first half of 2023.
The group has reported revenues of £36.3m for the third quarter of its 2022 financial year, up 28% on Q3 of the previous year. Adjusted EBITDA, excluding fair value movements from biological assets, was up 26% year-on-year, to £5.1m.
For the first three quarters of the financial year 2022, Benchmark has recorded revenue up 32% to £115.5m and adjusted EBITDA, excluding fair value movements from biological assets, of £20m, up 99% year-on-year.
Animal Health revenues were 213% above Q3 2021, driven by sales of Benchmark's Ectosan Vet and CleanTreat combined treatment system for sea lice, which is now being deployed in Norway.
Advanced Nutrition showed good resilience to an inflationary environment through better productivity and asset utilisation, the company said, although EBITDA was down 28% to £2.8m on revenues of £19.4m.
There were continued growth in salmon egg sales in the Genetics sector, following Benchmark's investment in a new incubation unit in Iceland and also the commercialisation of specific pathogen-resistant (SPR) shrimp was ahead of plan. Genetics recorded revenues of £13.1m for Q3, up 50% year-on-year, and adjusted EBITDA up 116% to 4.8m.
The group saw increasing finance costs, partly as a result of exchange rate movements, increasing net finance costs to £10m for the year to date.
Benchmark CEO Trond Williksen commented: "Q3 represents a continuation of the operational and financial progress reported consistently by Benchmark over the quarters following the 2020 restructuring.  We continue our dedicated work to realise the potential of the well invested and well positioned platform that Benchmark has become.
"We are excited about the development of a new configuration and business model for CleanTreat, which although reducing our growth rate for next year, increases our confidence in the solution and enhances Benchmark's long term prospects.
"Overall, we expect to continue to deliver further underlying progress in the coming quarters, with the aim of becoming a profitable company supporting the global aquaculture industry with sustainable solutions."