Awards for two fish farming trainees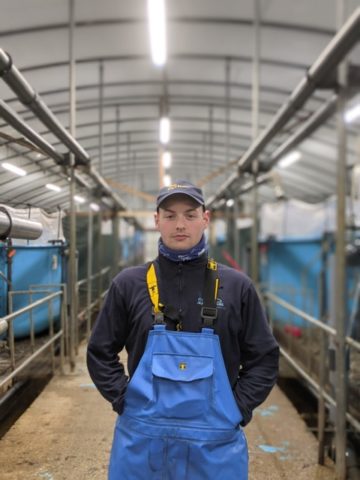 Two aquaculture trainees have been recognised at Lantra Scotland's ALBAS 21 (Awards for Land-based and Aquaculture Skills) event.
Callum Duggan (pictured, above), a freshwater technician with Cooke Aquaculture, won the Aquaculture Learner of the Year category, a prestigious CARAS award and was the ALBAS Overall Runner-up. Guy Tindall, a marine senior husbandry technician with Grieg Seafood Shetland, was Aquaculture Learner of the Year Runner-up.
CARAS was established by the UK's four national agricultural societies, including the Royal Highland & Agricultural Society of Scotland (RHASS) to recognise distinguished achievements in agriculture and related land-based industries. The awards took place at an online ceremony on 4 March.
Callum Duggan has been studying through a Modern Apprenticeship SVQ Level 7 (HNC) in Aquaculture, through the NAFC Marine Centre. He said: "I was surprised and grateful to be nominated for an ALBAS. I'm relishing my current role helping run the site, as I've always been interested in fish management. I really enjoy my role and take satisfaction from the site running smoothly, with progress and improvements being made."
Aquaculture runner-up Guy Tindall has been doing a Modern Apprenticeship SVQ Level 3 in Aquaculture, through NAFC Marine Centre.
Employers, colleges, trainees and their families joined the online event which was hosted by Liz Barron-Majerik, Director of Lantra Scotland and Jim Smith, well-known Perthshire farmer and stand-up comedian. The awards were officially opened by Cabinet Secretary for Finance Kate Forbes.
Rural industries covered were agriculture, animal care, aquaculture, equine, environmental conservation, horticulture, land-based engineering and trees and timber.
The ALBAS 2021 Overall Winner, as well as the winner of the Tam Tod Trophy, was Niall Provan, a Modern Apprentice in Rural Skills at the Callander Youth Project Trust through Scotland's Rural College (SRUC).