Automatic fish skinners offer quick and easy thickness control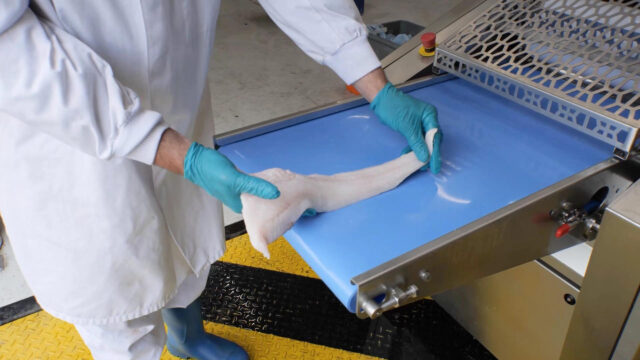 Cretel by ATS, the Belgian machine manufacturer of food processing equipment and washing & drying systems, has launched a new generation of automatic fish skinners F460A. This generation highlights reliability, quality, hygiene and a robust construction.
Silver, regular or deep skinning
The machine's thickness settings have been redesigned so that it can easily be set for silver, regular or deep skinning, without the need to disassemble the machine to make adjustments. Meanwhile the infeed and outfeed transport belts, which had previously been at different levels, have been arranged in the new version so that there is no height difference, and no drop from one belt to the next.
More operator safety
"Changing the blade or the heart-block is quick and easy since there's no disassembly required. The skinner is also easy to clean, as the machine can be dismantled quickly", says Johan Timmerman, Business Unit Manager Food Processing Equipment at Cretel by ATS.
"Safety is an important factor for our customers, and a lot of them opt for an automatic skinning machine for precisely that reason. It doesn't need anyone to get close to the machine while it's in operation. You just place the fillets on the belt and they come off at the other end. So automation in itself is a safety feature."
CO2-neutral production site
Cretel by ATS has also moved to a brand new production facility in Ghent (Belgium) in order to produce its machines in a CO2-neutral building. The site has a roof full of solar panels, a rainwater recovery system and Battery Energy Storage System. Thanks to extensive building automation, the comfort of the Cretel staff and energy performance are optimised.
Find more information at www.cretel.com
Follow Cretel by ATS at LinkedIn: https://www.linkedin.com/company/cretel-nv/