August boom for Norwegian salmon exports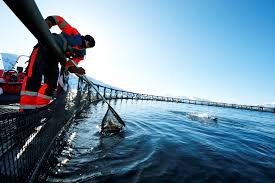 DESPITE an unprecedented heatwave when Europe sizzled during August and market talk of a slump in prices, Norwegian salmon farmers have just enjoyed their strongest month so far this year.
Figures from the Norwegian Seafood Council today show that the country exported 104,000 tonnes of salmon worth 6.2 billion kroner (£563 million) last month, up five per cent in volume and six per cent in value (NOK 341 million) on August last year.
Tom-Jørgen Gangsø, director of market insight and market access at the seafood council said: 'We have never had such a large price difference between (the various) markets as in August this year.
'While the average price to the EU was NOK 52.43 (per kg), the price to Asia was NOK 14.19 higher and the price to North America was NOK 16.47 higher.
'A greater depreciation of the krone against the dollar than against the euro is the explanation for this.
'In addition, increased demand from Asia for large salmon, which one cannot cover, may explain some of this difference.'
Victoria Braathen, fisheries envoy for the Norwegian Seafood Council in China, said: 'Driven by increased demand, we see continued very positive growth for Norwegian salmon sales to China. More efficient trade means that more Norwegian salmon is now being exported to China.
'It is fresh, whole salmon that dominates the salmon trade and Chinese buyers have a pronounced preference for large salmon.
'This affects both available fish to the market and the price level of salmon to the China market compared to other markets that increasingly accept salmon of different sizes.'
The overall average price for salmon last month was NOK 54.48 per kg, slightly down on the same month last year.
So far this year, salmon exports have reached almost 700,000 tonnes at a value of NOK 46.5 billion (£4.2 billion).
In August, Norway exported 5,808 tonnes of trout worth NOK 325 million. Volume increased by 61 per cent, while value increased by NOK 101 million or 45 per cent, compared with August last year.
So far this year, 55,000 tonnes of trout have been exported to a value of NOK 2.3 billion. Belarus, the United States and Thailand were the largest trout markets in August.
Overall seafood exports, including white fish, pelagic fish and shellfish, reached 182,000 tonnes last month with the value rising by six per cent to NOK 8.6 billion. Frozen cod and shrimp sales did particularly well.