Atlantic Sapphire raises $55m in share issue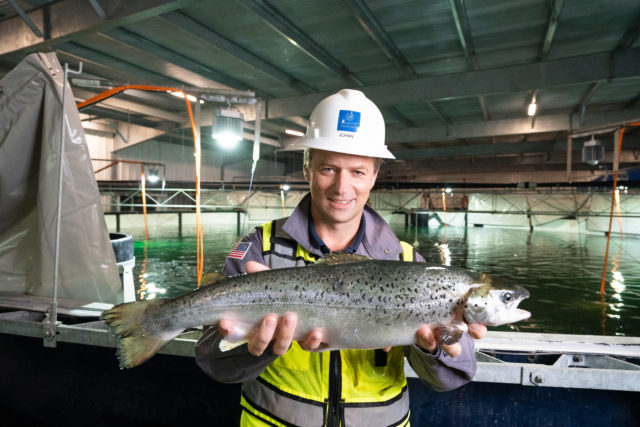 Florida salmon farmer Atlantic Sapphire has raised the equivalent of US $55m through a private placement on the Oslo Stock Exchange.
The placement involved the sale of 199 million new shares, at NOK 5.00 per share (£0.39), raising NOK 595m (£46m).
Atlantic Sapphire said the net proceeds from the private placement will be used to provide the company with sufficient financial runway, including a buffer, to achieve phase 1 steady-state production and profitability. Any remaining cash buffer may be used by the company for its phase 2 expansion.
The company had engaged DNB Markets and Carnegie to facilitate the equity-raising exercise.
In a further stock exchange announcement, Atlantic Sapphire said the company could potentially issue a further 20 million new shares at the same price of NOK 5.00 per share.
The following existing shareholders had pre-committed to subscribe for offer shares in the private placement:
Nordlaks Holding AS, one the largest and most profitable family-owned salmon farming companies in the world, for the NOK equivalent of $10m;
Strawberry Equities AS for the NOK equivalent of $6.5m;
Blue Future Holding AS owned by EW Group, a leading global provider of animal genetics, nutrition and health products, for NOK 50m (£3.9m); and
Joh Johannson Eiendom AS, also for NOK 50m.
Further, the following primary insiders and employees have pre-committed to subscribe for Offer Shares in the Private Placement:
Andre Skarbø (Board member): NOK 6.2m (£0.5m) through ASInvest AS;
Jon-Birger Løvik (COO): NOK 1m (£77,178);
Svein Taklo (CDIO): NOK 250,000 (£19,293); and
Tone Bjørnov (Board member): NOK 50,000 (£3,859).
A few days ago, Atlantic Sapphire also indicated it is potentially willing to sell its fire-damaged Danish facility.
The company has begun demolishing the RAS site which was destroyed by fire in September 2021 and said it is "exploring new possibilities", possibly as a new RAS operation which it said was cheaper to establish in Denmark than elsewhere.