Atlantic Sapphire faces $3m loss in new technical incident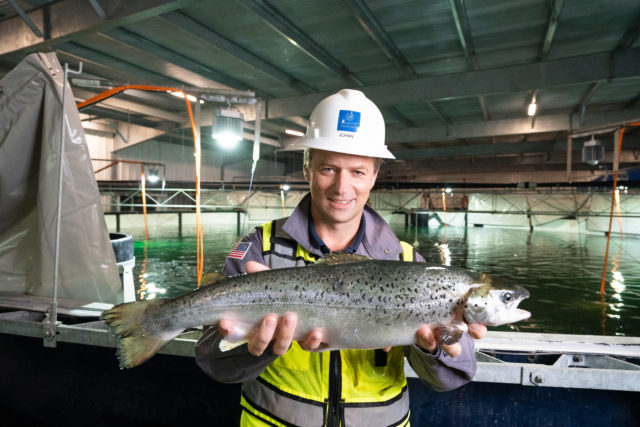 Land-based salmon farmer Atlantic Sapphire has been hit by another technical accident – this time at one of its salt water plants in Denmark.
The company could lose up to 400 tonnes of salmon, worth more than £2m. The incident happened while work was being carried out in a filtration plant at the weekend, according to reports from Denmark.
A statement said: "The company's preliminary analysis, which remains subject to change, indicates that maintenance work performed in the filtration system caused water quality to quickly deteriorate resulting in elevated mortality."
Atlantic Sapphire said it was continuously improving its operating procedures, adding that human errors had altered the water levels in the RAS system allowing previously stagnant water to flow into the tanks. To minimise the risk of a similar incident, it has updated certain operating procedures which will take place immediately.
It said the potential loss represents of the company's 17% annual production in Denmark and was worth around US $3m.
This is the second technical incident to have affected the company this year. Four months ago the company lost 500 tonnes of salmon at its RAS plant near Miami, Florida.
The incident came as prospects were looking brighter for Atlantic Sapphire after it issued a second quarter trading update on Friday.
The company is best known for its Miami Bluehouse salmon (pictured), produced in Florida. Atlantic Sapphire says product quality and price targets have improved driven mainly by higher harvest weights and fewer downgrades as a result of maturation.
The US harvest price was $11 per kg and DKK 38 per kg in Denmark.
Atlantic Sapphire harvested a total of 550 tonnes in Q2, 300 tonnes in the US and 250 tonnes in Denmark. It has also achieved a biomass gain of 700 tonnes in the US and 200 tonnes in Denmark.
As announced at the start of June, feeding was reduced in the United States during the quarter to focus on risk reduction and the implementation of risk mitigation measures. Harvest volumes were also reduced during the period to optimise the harvestable biomass for this year.
Atlantic Sapphire's interim financial statement for the second quarter will be released on August 27. The company also expects to release an update on its strategic approach for future expansions in the US beyond Phase 2 in the second half of 2021.