ASC salmon review tailored to Scottish farms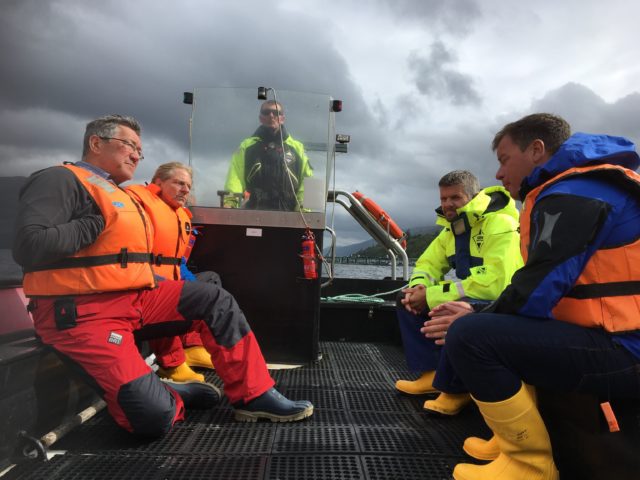 SCOTTISH salmon farms which use smolts raised in freshwater lochs will now be able to apply for ASC (Aquaculture Stewardship Council) certification following a major review.
The move updates the salmon standard and freshwater trout standard, resolving inconsistencies between the two and allowing for salmon smolt production to be audited against the trout standard.
Norwegian owned Mowi, the world's biggest salmon famer, has welcomed the change, which will enable it to meet its goal of having all its farms ASC certified by 2020.
Until now, Mowi Scotland had been excluded by ASC rules, because of the way it farms, rearing about half its smolts in freshwater lochs.
Globally, Mowi farms account for more than one third of the salmon farms certified to the ASC salmon standard.
The review followed a rigorous, science based process, said the ASC, and is part of its commitment to continuously improve standards and adapt to changes in the industry.
With the updates, smolt production for all ASC certified salmon farms will now require an on-site audit for the first time.
'We are pleased that ASC has amended its salmon standard to include consideration of freshwater lochs, and we welcome a science based approach to its certification programme,' said Rory Campbell, technical manager at Mowi Scotland.
In 2015, Mowi's Loch Leven salmon farm became the first in the UK to be accredited by the ASC salmon standard.
However, the company had to allow for the certification period of the Loch Leven site to elapse, as it continued to work with the ASC on modification to the standard to allow for raising of salmon in freshwater lochs – a significant part of a salmon's natural lifecycle.
'Mowi has, in all regions it operates, committed to achieving certification to the ASC standard,' added Campbell.
'In Scotland, we can now move forward towards ASC certification, which will provide our customers additional third-party verification of our production systems and will nicely complement the numerous other certifications we achieve.'
The company is seeking a certification manager to oversee its ASC programme in Scotland.
The revised standard also covers escapes, with producers now required to develop genetic baselines and studies of local wild salmon to safeguard the population and to assess future impacts.
Chris Ninnes, CEO of the ASC, said: 'The revision will allow more salmon producers to embrace responsible production by meeting the stringent requirements of the ASC standards, including on-site audits for freshwater smolt production, and indicators that will protect the local areas where the smolts are produced by setting production levels that aid conservation, prevent escapes, and protect water quality.
'The benefits of the ASC programme – to the environment, communities, farmers and the industry— and the transparency and accountability that comes with it, are now available to a wider range of farmers.'