AquaLeap shortlisted in Knowledge Exchange Awards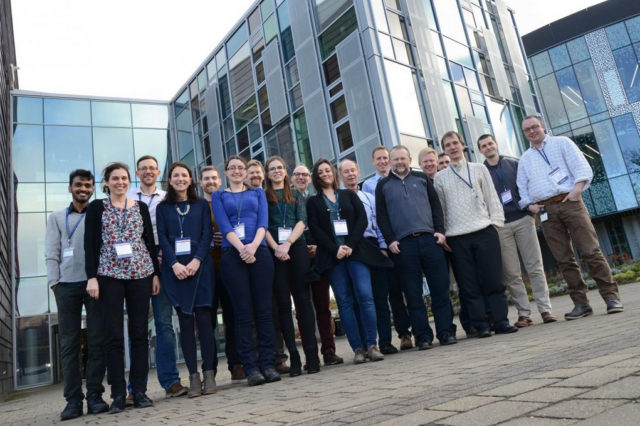 A collaborative project between genetics experts and the fish farming industry has been shortlisted for the sixth Scottish Knowledge Exchange Awards.
The Aquaculture Genetics Alliance brought together the University of Edinburgh's Roslin Institute, University of Stirling, Hendrix Genetics, and the Centre for Environment, Fisheries and Aquaculture Science to find key genetic markers for disease resistance, to identify and breed salmon with resistance to viral disease, and to tackle other diseases of salmon and aquaculture species.
Set up in February 2019, the £1.7m AquaLeap initiative focuses on four key species that have substantial economic and environmental importance for the UK – the European lobster, European flat oyster, lumpfish and Atlantic salmon.
Researchers have been working closely with industry partners to identify sustainable solutions to current challenges facing aquaculture production, including significant diseases.
The Scottish Knowledge Exchange Awards recognise the benefits of collaboration between businesses and academics in Scotland. The programme is organised by Interface, which connects businesses from all sectors with Scotland's universities, research institutes and colleges.
All the winners will be announced online at the Scottish Knowledge Exchange Awards Ceremony on 21 April 2021.
Ivan McKee, Minister for Trade, Innovation and Public Finance, said: "The Scottish Knowledge Exchange Awards, organised by Interface, act as an excellent tribute to the outstanding achievements of all those working across industry and academia.
"This event also highlights the crucial role that innovation can play, especially in these challenging times for business, in building sustainable economic growth and increasing productivity.
"I'd like to congratulate all the nominees who have rightly been recognised for their tremendous work throughout the year."
In the "Knowledge Exchange Heroes" category, the judges shortlisted Lisa Farrell, Business Development Officer, University of Stirling; Gary Hogan, Knowledge Exchange Manager, Robert Gordon University; and Dr Andrea Taylor, Head of Business Development, College of Medicine and Veterinary Medicine, the University of Edinburgh.
Other shortlisted nominees – among many others – include Aqualution Systems Ltd, Duns, and University of Edinburgh; and NHS Scotland/NHS Lothian, Moredun Research Institute and SRUC )for the Covid-19 Collaborative Response Award); and for Innovation of the Year Phoenix Instinct Ltd, Forres, and University of the West of Scotland; Scotmas Group Ltd, Kelso, and Robert Gordon University.; and the Scottish Trust for Underwater Archaeology (The Scottish Crannog Centre), Loch Tay, and the University of the West of Scotland.