Aquaculture student in national awards shortlist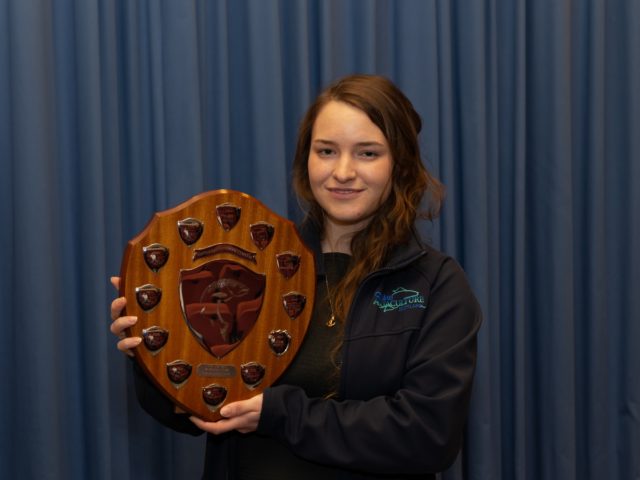 A SHETLAND based aquaculture student has been named as a finalist in the British Education Awards.
Emma Rochester, who is enrolled on the NAFC Marine Centre's level 3 Modern Apprenticeship in Aquaculture, works for Cooke Aquaculture on Yell.
She was nominated for the award by the NAFC's section leader for aquaculture training, Stuart Fitzsimmons.
He said: 'Emma is one of the best candidates to have completed NAFC's Modern Apprenticeship in Aquaculture at level 2.
'Throughout the programme she impressed us with the quality of her work and her professionalism in the work place.'
After sailing and working with Tall Ships, Emma joined NAFC's Merchant Navy Officer Cadet Programme and trained as a deck officer.
She then switched to the aquaculture industry, joining Cooke and enrolling on NAFC's level 2 Modern Apprenticeship in Aquaculture.
In 2019, she was awarded the Jim Tait Prize for Aquaculture for the best student completing the course.
The British Education Awards (BEA) promote excellence in British education and identify and celebrate individuals who have excelled within the British education system.
The news of Emma reaching the finals of the BEA awards comes only days after two other NAFC aquaculture apprentices, Valentina Romano and Jimmy Dakin, were shortlisted for the Lantra Scotland's 2020 Awards.
NAFC principal Willie Shannon said: 'Emma, Valentina and Jimmy are to be congratulated on being shortlisted for these prestigious national awards.
'These well deserved nominations reflect the hard work and commitment that all three students have displayed throughout their training at the NAFC Marine Centre.
'It also highlights the quality of the training delivered at NAFC and the efforts of our aquaculture training staff in supporting these and all our other students during their training.'
The BEA awards will be presented at a formal dinner in Manchester on Thursday, January 30.