AquaBounty's GM salmon approved for Brazil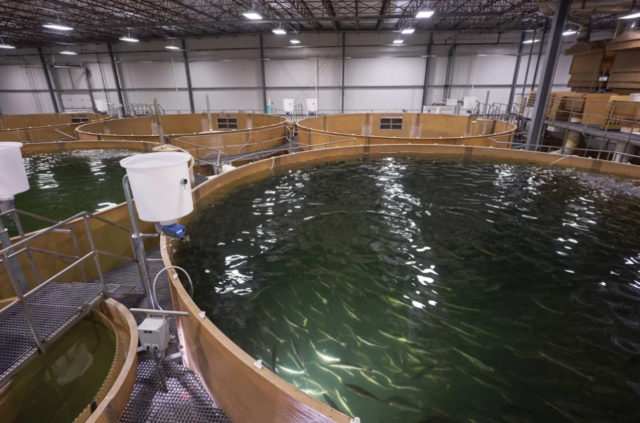 US-based fish farmer AquaBounty Technologies has gained permission to sell its genetically modified salmon in Brazil.
The news was announced this week as AquaBounty also confirmed that it has started the first harvest of its GMO salmon at its farm in Albany, Indiana.
AquaBounty's "AquAdvantage" GMO Atlantic salmon have had elements of two other fish species – Chinook salmon and ocean pout – added to their genetic make-up in order to achieve faster, more efficient growth. They have been reared in the company's recirculating aquaculture system (RAS).
The company said that with the approval of its application to Brazil's National Biosafety Technical Commission for the sale of GMO Atlantic salmon in Brazil, it "moves closer to realising an exciting new market opportunity in South America."
Sylvia Wulf, Chief Executive Officer of AquaBounty said: "This is another significant achievement for AquaBounty as we seek to expand our presence into new international markets. This approval now enables us to seek production and distribution partners in Brazil, the largest and most populated country in South America with significant demand for salmon."
Aquabounty has also received regulatory approval for sale in the US and Canadian markets.
Wulf also said: "We are thrilled to commence commercial-scale harvesting of our GE salmon at our Indiana farm.The first weeks of our harvest supply are fully committed and our customers are excited to introduce the salmon in their markets. We will continue to ramp up production to the farm's full capacity throughout the course of the year."
AquaBounty also announced that Gail Sharps Myers – the EVP, Chief Legal Officer, Chief People Officer and Corporate Secretary for Denny's Corporation – was elected to its board of directors at the Company's annual shareholders' meeting held on 28 May, 2021. She joins recently appointed Director, Dr. Ricardo Alvarez, President and CEO of Richelieu Foods Inc.