Angling body appoints new chief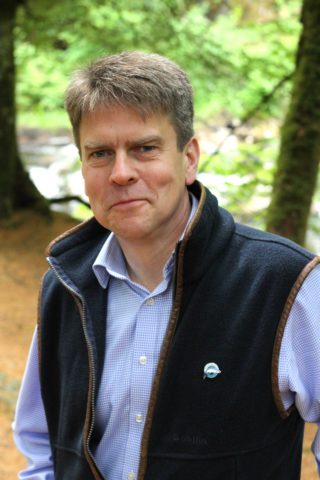 THE Atlantic Salmon Trust has named Mark Bilsby as its new chief executive, replacing Sarah Bayley Slater, who leaves the post after two and a half years.
Bilsby (pictured) has more than 20 years' experience as a fisheries manager. He has been the director for the River Dee Trust and Dee District Salmon Fisheries Board since 2005, and also spent a decade as a senior fisheries biologist for the Western Isles Fisheries Trust.
Prior to that he worked with the National Rivers Authority and at a private environmental consultancy.
One of his first responsibilities in his new role will be to oversee the Missing Salmon Project, a tagging initiative which will see the installation of a 65-mile wide 'acoustic array' across the Moray Firth in a bid to determine why Atlantic salmon numbers are dropping so rapidly.
'There has never been a more exciting time to join this organisation – or a more important time,' he said.
'The wild Atlantic salmon is in serious danger and we have a crucial role to play in safeguarding its future.
'The Missing Salmon Project is the key to protecting the species' future. It will give us hard information on how seriously the threats identified in our Likely Suspects Framework impact on the salmon's survival and at which life stage.
'We now face a race against time to raise the £1 million we need to make the project work – and I look forward to meeting this challenge head on.'
Bayley Slater, who will remain involved with the Trust, said: 'It is an honour and a privilege to work with the Atlantic Salmon Trust and I'm delighted to hand the baton over to Mark, whose skill and experience makes him an invaluable addition to the team.
'I wish him all the best in his new role and look forward to following the success of the Trust and the Missing Salmon Project in the future.'
The Missing Salmon Project was launched on the River Garry in April, with the Atlantic Salmon Trust saying the study will provide much needed data on what is preventing salmon smolts getting out into the sea.
Data to be gathered will give fishery managers and NGOs the information they need to call for policies that will protect the iconic species, according to groups who have pledged support to the project.
Meanwhile, it has been announced that angling representatives will sit alongside salmon farmers on a new salmon interactions working group, established by the government as part of the new Farmed Fish Health Framework.
John Goodlad will chair the group, the government revealed over the weekend, but it is not yet known which angling groups or which farming interests will take part.