SSF profits drop but Orkney performs well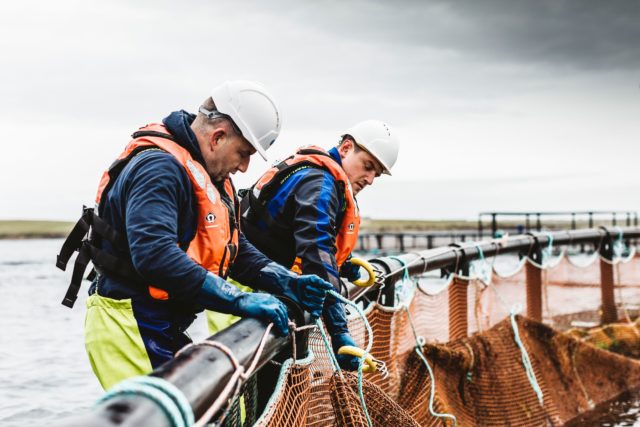 SALMON farming giant SalMar has reported reduced revenues and profits from its Scottish Sea Farms operations in the first quarter of 2019, the group's latest figures show today.
Q1 revenues fell from NOK 519 million (£46.6 million) in 2018 to NOK 405 million (£36.3 million) this year, while pre-tax profits dropped from NOK 178 million (£16 million) to NOK 58 million (£5.2 million).
SalMar blamed the decrease in revenues on lower harvest volumes, which fell by 1,700 tonnes to 4,800 tonnes.
It said the bulk of the volume harvested came from Orkney, which enjoyed good operational performance and average weights. The remaining volume harvested came from mainland Scotland.
The UK business, which SalMar shares with Lerøy Seafood, has been hit by various biological problems, particularly in Shetland, and the results were not unexpected.
However, SalMar said in its annual report a few weeks ago that Scottish Sea Farms, also known as Norskott Havbruk, was starting to turn the corner thanks to high harvest weights, good prices and improvements in cost reductions.
The business is scheduled to harvest 30,000 tonnes this year.
'The financial result has been negatively affected by costs relating to high mortality at certain sites,' said SalMar.
'Fifty per cent of the quarter's volume was sold under contract. Operational EBIT per kg gutted weight came to NOK 22.78 in the first quarter 2019, compared with NOK 26.67 per kg in the same period in 2018.'
On a group level, SalMar has posted a strong financial performance, with a Q1 operational EBIT of NOK 806.2 million (£72 million) compared with NOK 708.1 million (£63.5 million) in the same period last year.
This was thanks in large part to significantly higher harvests from Northern Norway.
SalMar's gross operating revenues ended at NOK 3 billion in the quarter, up from NOK 2.5 billion in the first quarter 2018.
The group harvested 35,500 tonnes, compared with 31,900 tonnes in the corresponding period last year.
It made an operational EBIT of NOK 22.71 per kg in the first quarter, a year-on-year increase of NOK 0.50 per kg.
CEO Olav-Andreas Ervik said: 'We continue to deliver good financial results. During the period, we also increased our shareholding in the Icelandic aquaculture company Arnarlax.
'As an industrial owner, SalMar will contribute to the sustainable development of fish farming on Iceland.'