The December issue of Fish Farmer is out now online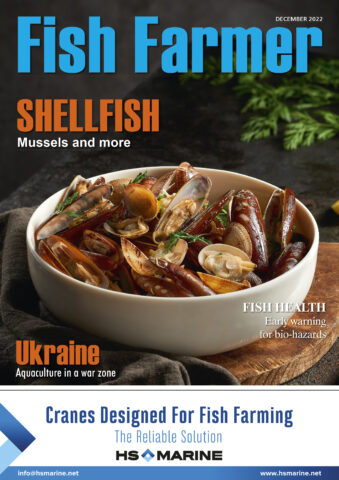 Fish Farmer's December edition is out now online, and you can read it here.
Ukraine's fish farmers are continuing to provide a vital food source even as the country's infrastructure is under constant attack. In the latest issue, we tell the stories of two Ukrainian farmers who are planning for tomorrow as well as struggling with today's reality.
Also in the December magazine, we have an update on the shellfish sector, from a study of mussel larvae to a new hatchery in Whitby, Yorkshire, set up to restock the North Sea's threatened native lobster population.
Sandy Neil reports on a community that has found itself divided over the future of aquaculture – the indigenous First Nations of Canada's Pacific Coast, where salmon is not just a food resource, but an intrinsic part of the culture.
Closer to home, we also report on moves to create an early warning system for fish farmers in Scotland to provide advance notice when there is a risk of harmful algal blooms (HABs).
Former PM Boris Johnson promised to "get Brexit done", but, as Salmon Scotland's Hamish Macdonell writes in his column this month, it has become apparent that Brexit is an ongoing process – and one that could be managed a lot better than it is right now.
Also in this month's magazine, you can read a report of the "Connectivity for Good" webinar co-hosted by Fish Farmer with communications technology specialist Krucial on aquaculture's digital future. The article starts on page 60 and it includes a link to view the webinar online.